Summer—A Time for Learning
Five Lessons From School Districts and Their Partners About Running Successful Programs
A Wallace report offers lessons—and plenty of tips—for school districts and partner organizations on planning and running effective summer learning programs.​​
July 2019
Summary
How we did this

This report presents key lessons from extensive research by the RAND Corp., including information on individual students' achievement, attendance, demographic and educational background, and social and emotional learning.
What makes for a high-quality, voluntary summer learning program for low-income students? In 2011, the Wallace Foundation launched a $60 million, multi-year project to answer that question.
Called the National Summer Learning Project, the effort involved five urban school districts and their partners. It also was the focus of a wide-ranging study by the RAND Corporation. 
This Wallace Perspective distills key lessons from that research for district leaders, out-of-school-time providers and intermediaries, and funders. Educators and policymakers are increasingly turning to these programs  to help close the achievement and opportunity gaps between lower- and higher-income children. 
Five Lessons
The report highlights five key lessons about what makes for successful summer programs:
Early planning for programming is crucial. Districts need a long lead time to pull together a curriculum, staff, and other essential elements of an effective program. That means committing to a summer program by December and starting to plan for it no later than January.
Successful programs focus on quality and what's special about summer. They present a fresh curriculum that doesn't rehash the one from the school year. They also create a positive environment, with as much attention paid to planning enrichment activities as the academic portion of the day. And program leaders gather and evaluate data to inform continuous improvement.
Enrolling children in voluntary programs requires intensive recruiting. Programs need to create marketing messages that focus on parents' and students' preferences. They also should produce  material demonstrating program outcomes.
Summer learning should be part of a school district's year-round operations. Successful programs make funding and planning for summer a matter of routine by tying it to district priorities and operations.
There are opportunities to build lasting support for summer learning. Successful programs form relationships with district leaders and others who allocate revenue and set policy.
Critical Characteristics
What are important characteristics of a high-quality program? They include:
Staffing by teachers who are well-trained for the unique challenges of summer academics. Also important are enrichment instructors who are adept at classroom management.
Ample time, with a full day of academics and enrichment five days a week for five-to-six weeks. One recommended practice is to have at least three hours devoted to math and English Language Arts instruction.
An engaging curriculum that is different from the school year. The RAND study found a correlation between frequent attendance and improvements in reading and math. Voluntary programs need to keep students interested throughout the summer or they will find something else to do with their time. 
We shout from the rooftops that we're not school and we're proud of that.

— A onetime organizer of summer learning programs in Pittsburgh
Early planning and a focus on program quality are two of five lessons about what it takes for school districts and partners to operate a strong summer learning program.
There is a correlation between frequent attendance at summer learning programs and improvements in reading and math.
High-quality summer learning programs are staffed by teachers who are well-trained for the unique challenges of summer academics. 
Visualizations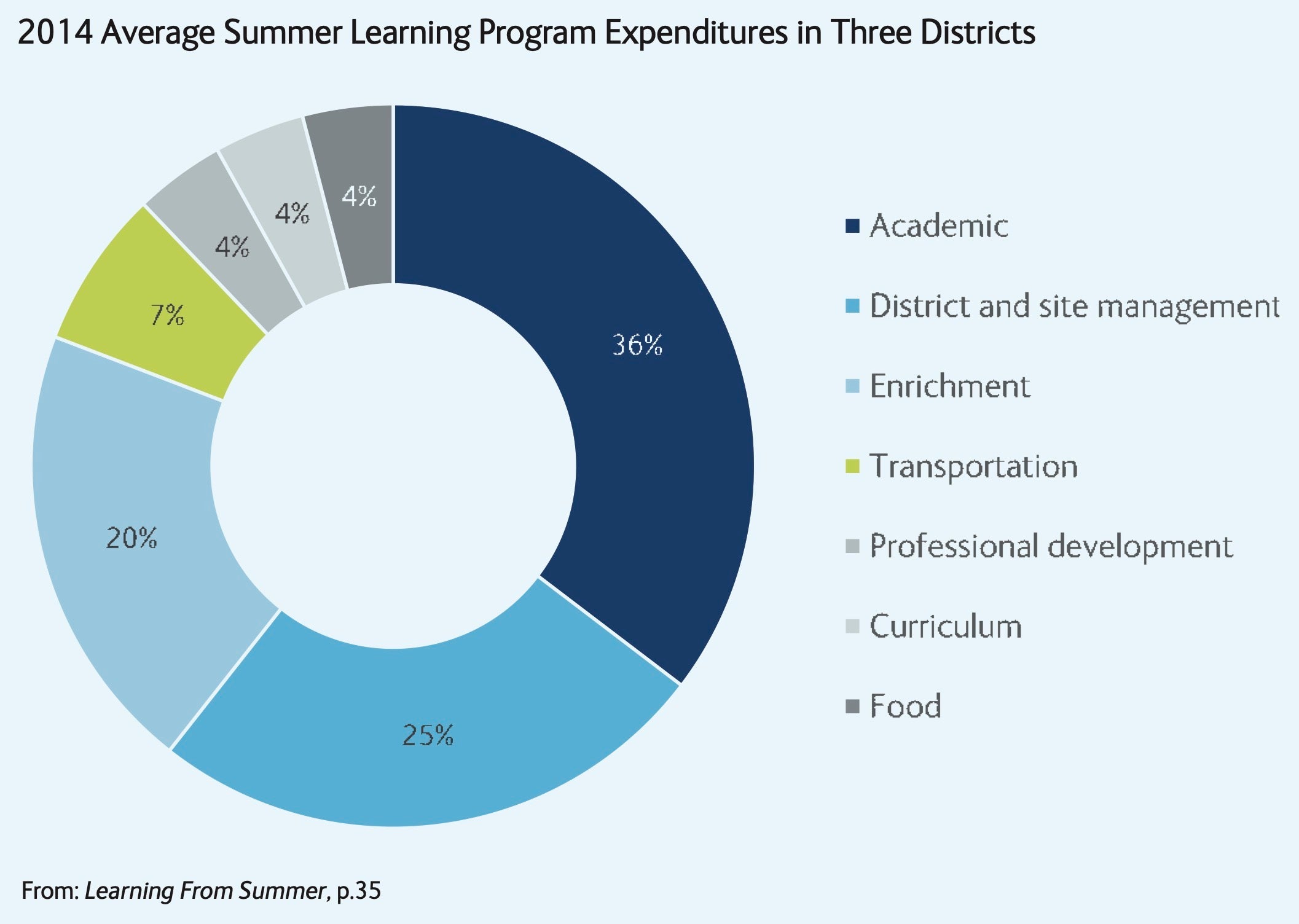 Materials & Downloads
Topics: