​​Dr. Sonja Brookins Santelises, chief executive officer of Baltimore City Schools, has heard the same concern from parents across her district's 161 schools since in-person instruction was suspended in March due to the coronavirus pandemic. No matter where they live, she says, parents throughout her high-poverty district are worried that their children are losing ground academically during this period.
They have reason to be concerned: A McKinsey & Company report estimates that if in-person instruction does not fully resume until January, black, Hispanic and low-income students could lose as much as nine to 12 months of learning because they are less likely to have received high-quality remote instruction last spring and now again this fall.
As Baltimore developed its re-opening plan, some voices in the district argued that schools should focus on students' social and emotional needs and put academics on the back burner. Santelises refused. Schools must tend to their students' mental health, she says, but short-changing instruction would only exacerbate learning loss and widen the achievement gap for the most vulnerable groups. Simply put, schools have to do it all.  
"It is easier in this time period to resonate in a broken-child narrative, to almost let ourselves off the hook for choosing to do one or the other," she says. "I would argue that…in this crucible, we actually are being charged for the first time to do both-and for children who are not used to having people address their needs both-and."  
Approaching the re-opening of schools with a 'both-and' mindset was the central theme of Santelises's keynote address at last month's convening of Wallace's Principal Pipeline Learning Community. The virtual event drew more than 270 participants, including 17 superintendents, from 80 districts across the U.S. that are testing a toolkit that guides how they hire, train and match principals to schools. The toolkit is based on lessons learned from the Principal Pipeline Initiative, which found a significant improvement in math and reading scores across six districts that took a strategic approach to school leadership. The convening focused on principal pipeline activities in the midst of the pandemic and how districts like Baltimore are ensuring equity as schools re-open.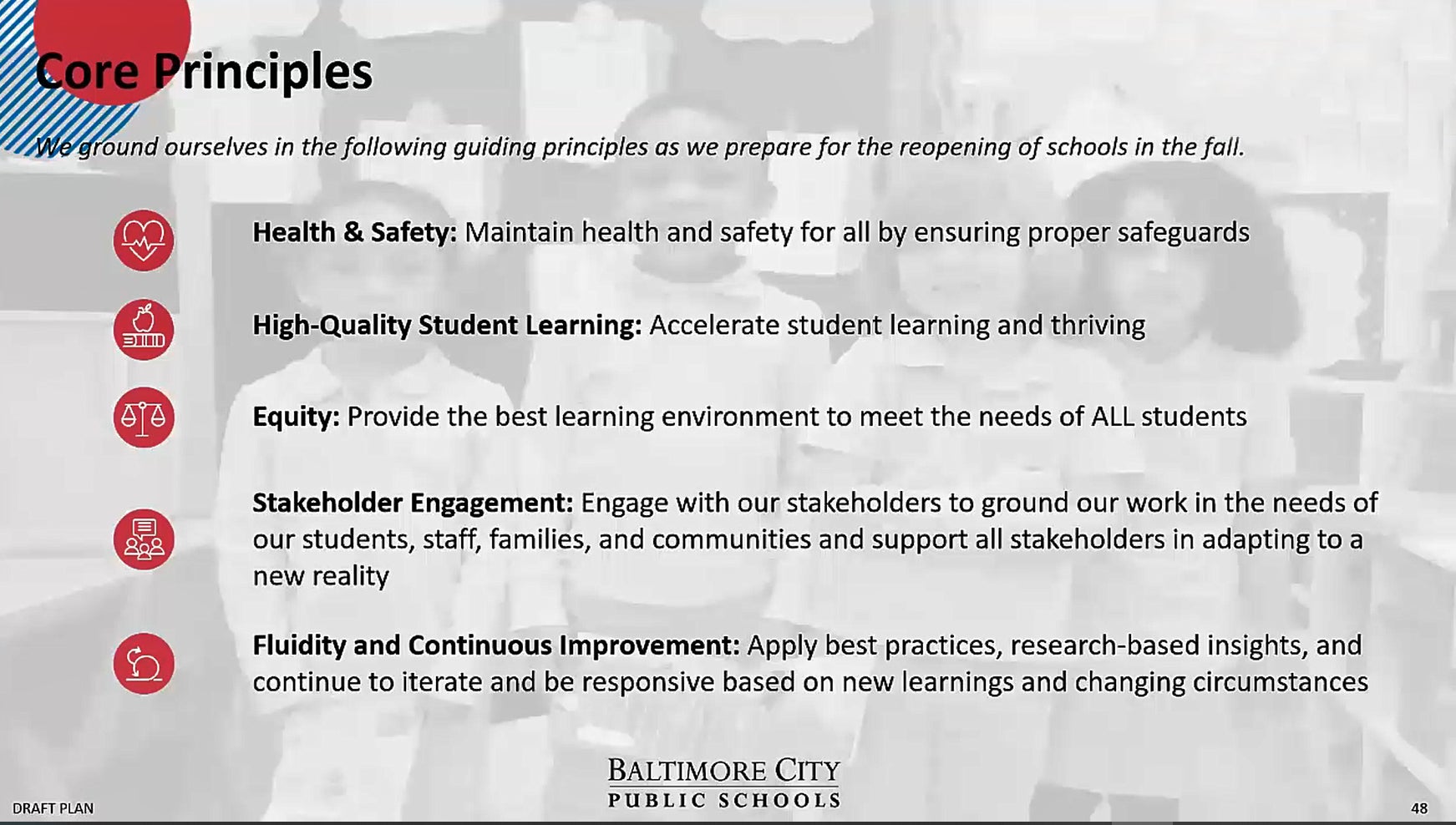 Equity is one of five core principles—along with health and safety, high-quality student learning, stakeholder engagement and continuous improvement—guiding Baltimore's re-opening plan . The district examines every policy and practice with an eye on equity, determining which students may be disparately affected and how to mitigate those effects. Baltimore students started the school year virtually, but if and when schools transition to a hybrid-learning model, struggling students such as English learners and those far behind in reading and math will return to the classroom first. The district is also digging into attendance data during remote learning to expose disparities "so that we can have a response that is not the same for all, but that names without fear or frankly, apology, that there are certain groups of students that actually require more attention," Santelises says.
Students aren't the only ones needing attention as the school year gets under way. The convening also featured a panel of central-office leaders from three districts who described their efforts to support principals as they adjust to ever-shifting policies and lead their school communities during such trying circumstances. Rudy Jimenez, assistant superintendent of North East Independent School District, which serves 64,000 students in San Antonio, Texas, discussed how his district revised its communications strategy with principals after realizing that some were misinterpreting information coming from the central office. District leaders added a second weekly meeting with principals to avoid overwhelming them with too much information at once and shared their talking points after each virtual gathering for principals to review. The pandemic has also amplified the critical role of the district's four principal supervisors. "They've been able to take the pulse of what's going on in their collective schools and act accordingly," says Jimenez.
The first day of school started at 3 a.m. for panelist Sheila McCabe, assistant superintendent for educational services for Fairfield-Suisun Unified School District, with calls from principals who were being evacuated from their homes due to fast-moving wildfires in their region 45 miles north of San Francisco. The district postponed re-opening for a few days and its 21,000 students are currently fully remote. Re-opening has brought heightened attention to principals' social and emotional wellbeing, says McCabe. After it became apparent that principals were running themselves ragged as they prepared for distance learning, district leaders realized they had to do a better job giving principals the space—and permission—to unplug and take time for themselves. Supporting principals has also meant rethinking how fast to proceed with the district's pipeline-building efforts. "The question becomes, how much do we push and how much do we back off in helping site leaders move forward with these initiatives while simultaneously recognizing their capacity based on everything that's taking place?" McCabe says.
The good news is that the pandemic hasn't derailed pipeline work in many districts. Plenary attendees described holding virtual boot camps for new principals over the summer, hiring coaches to support school leaders, and implementing leader tracking systems to better manage principals' career development. Boston Public Schools completely revamped its recruiting website in the midst of the pandemic, adding details about required leadership competencies, profiles of principal mentors and photos of its two most recent cohorts of new principals, 75 percent of whom are minorities. The goal, explains Corey Harris, Boston's chief of accountability, is to give applicants a sense of who they will work with and what they will experience if they're hired. Boston's hiring process had already begun when the pandemic struck, but the district quickly pivoted to an all-virtual experience. Applicants can even do a dry run on Zoom before their interview to check connectivity. 
While their districts continue adjusting to the new normal, participants in the learning community agreed that collaboration with families, staff, community partners and others is essential to ensuring an equitable response to a school year that will be like no other. Parents, noted Santelises, are counting on them. "Our families have not relinquished their belief in the power of education to give their young people the kinds of agency that oftentimes underresourced communities have not been able to fully experience."
Related Topics: