The Connected Arts Learning Framework
An Expanded View of the Purposes and Possibilities for Arts Learning
This report offers a framework for arts learning that connects the arts to children's community, civic, and future professional life.
March 2023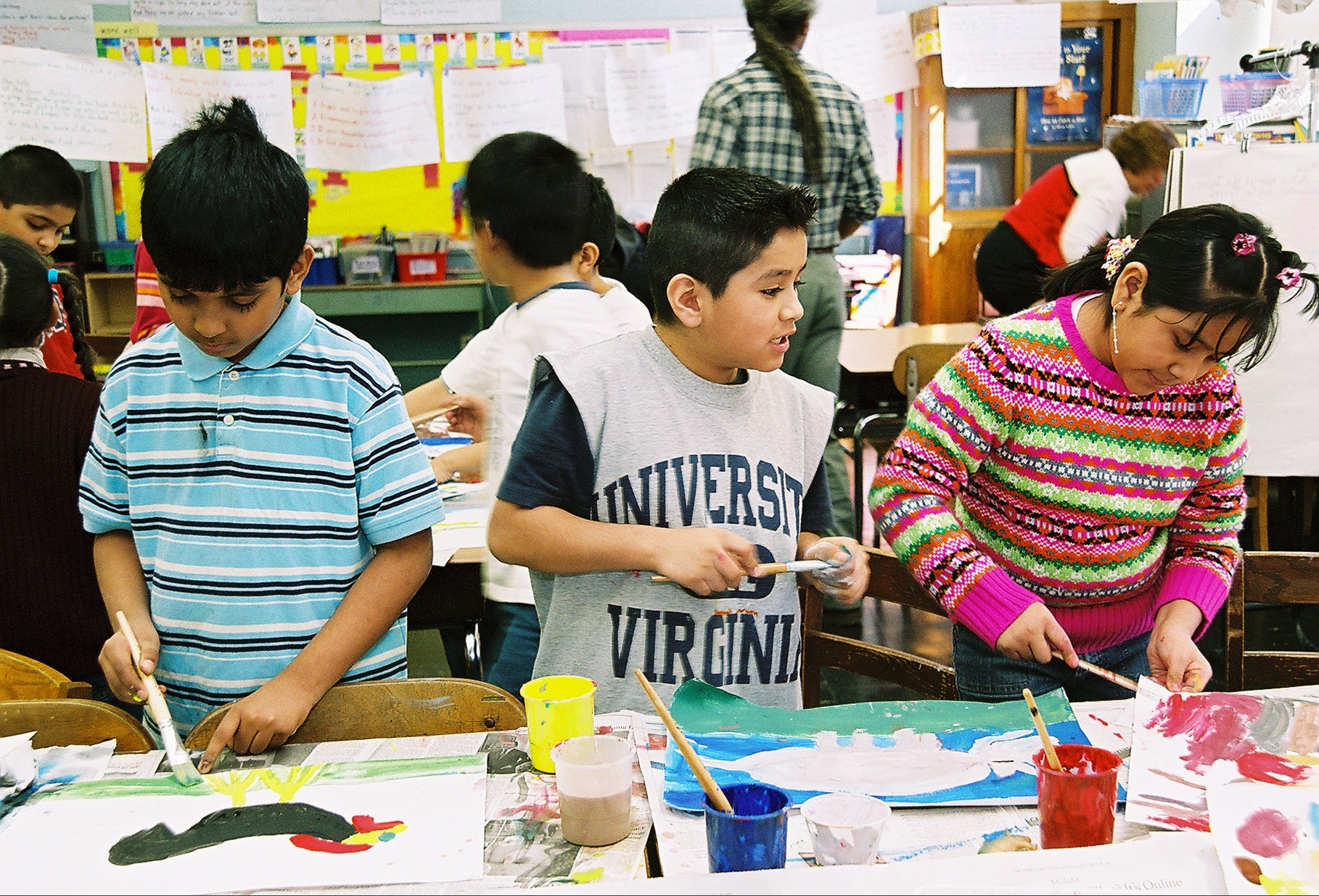 Summary
How we did this

The authors conducted a review of the arts education literature to uncover: 1) how practitioners tap young people's interests to create meaningful and equitable learning experiences for them; 2) how key relationships (e.g., peers, mentors, family) help build networks for youth; and 3) how out-of-school arts experiences might connect participants to future learning opportunities. The review was followed by interviews with practitioners and investigations that led to case studies about the five approaches.  
The benefits of teaching art to young people have often fallen into two camps. Children study or practice "art for art's sake" to develop a particular skill. Or they approach "art for academics' sake" to enhance their other studies. 
But this report comes at arts learning from a different angle: What if learning about or practicing an art could help young people connect more directly to their communities and the world they live in? And how might that change the experience and outcomes for both students and communities? 
The report, led by Kylie Peppler, an expert in arts learning, and her team at the University of California, Irvine, begins with a connected learning framework. In connected learning, educators seek to create meaningful learning experiences based on young people's interests and then connect these experiences to real-world issues and communities. The authors put art within this context to discover how arts education can help young people build connections with their culture, identity, home lives, communities, professional artists, and future aspirations. 
The team identifies five approaches for Connected Arts Learning that emerged from its literature review and follow-up interviews with arts education leaders. The leaders selected were already taking some sort of connected arts learning approach in their program. 
The five approaches are: 
Culturally sustaining arts: Puts a community's culture at the center of arts experiences 
Future forward arts: Prepares youth for future workforce or civic participation
Networked arts: Embeds art in networks including families, educators, and working artists
Doing well by doing art: Supports participants' health and well-being through art
Youth voice arts: Emphasizes youth perspectives, leadership, and activism.
A series of case studies shows how five organizations each exemplified one of the approaches. The team also states that these approaches are not mutually exclusive. Organizations might use a combination of these approaches or add an approach of their own. 
The report offers a Connected Arts Learning rubric and series of guiding questions for organizations, educators, community leaders, and others to help them build a Connected Arts Learning orientation. It also suggests that funders, policymakers, and other researchers can support the use of this framework by: 
Broadening what counts as outcomes in arts learning
Helping to develop research-practice partnerships in communities
Understanding the arts education networks and ecosystems in a given area.
We have three generations of families—where we have the parent whose parent brought them to Ifetayo, that now has a child that they have brought to Ifetayo. When you really look at that overlap between relationships, it's that connectedness that creates opportunity.

— Naima Oyo, Ifetayo Cultural Arts Academy Executive Director
The Connected Arts Learning framework takes a community approach to arts education that helps young people create a bridge between the art they practice and the world they live in. 
Five approaches identified in the report highlight how educators can use art to help connect students to their community, culture, future work opportunities, professional artists, civic engagement, and their own well-being.
The researchers from the University of California, Irvine, offer this study as the beginning of an inquiry into what they hope will become a larger area of work to expand Connected Arts Learning.
Additional recommendations for funders and policymakers include broadening  the types of outcomes expected from arts learning, developing research-practice partnerships, and plugging into a community's arts ecosystems. 
Visualizations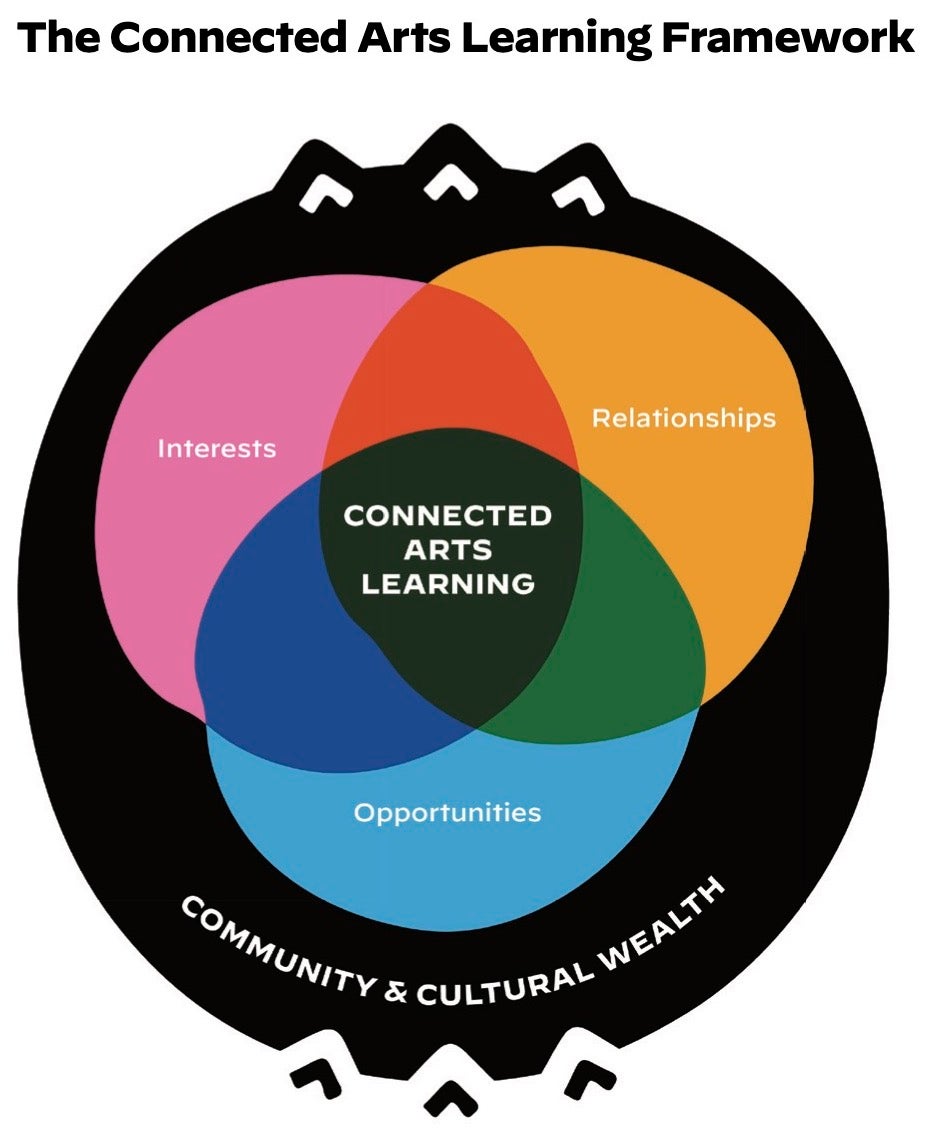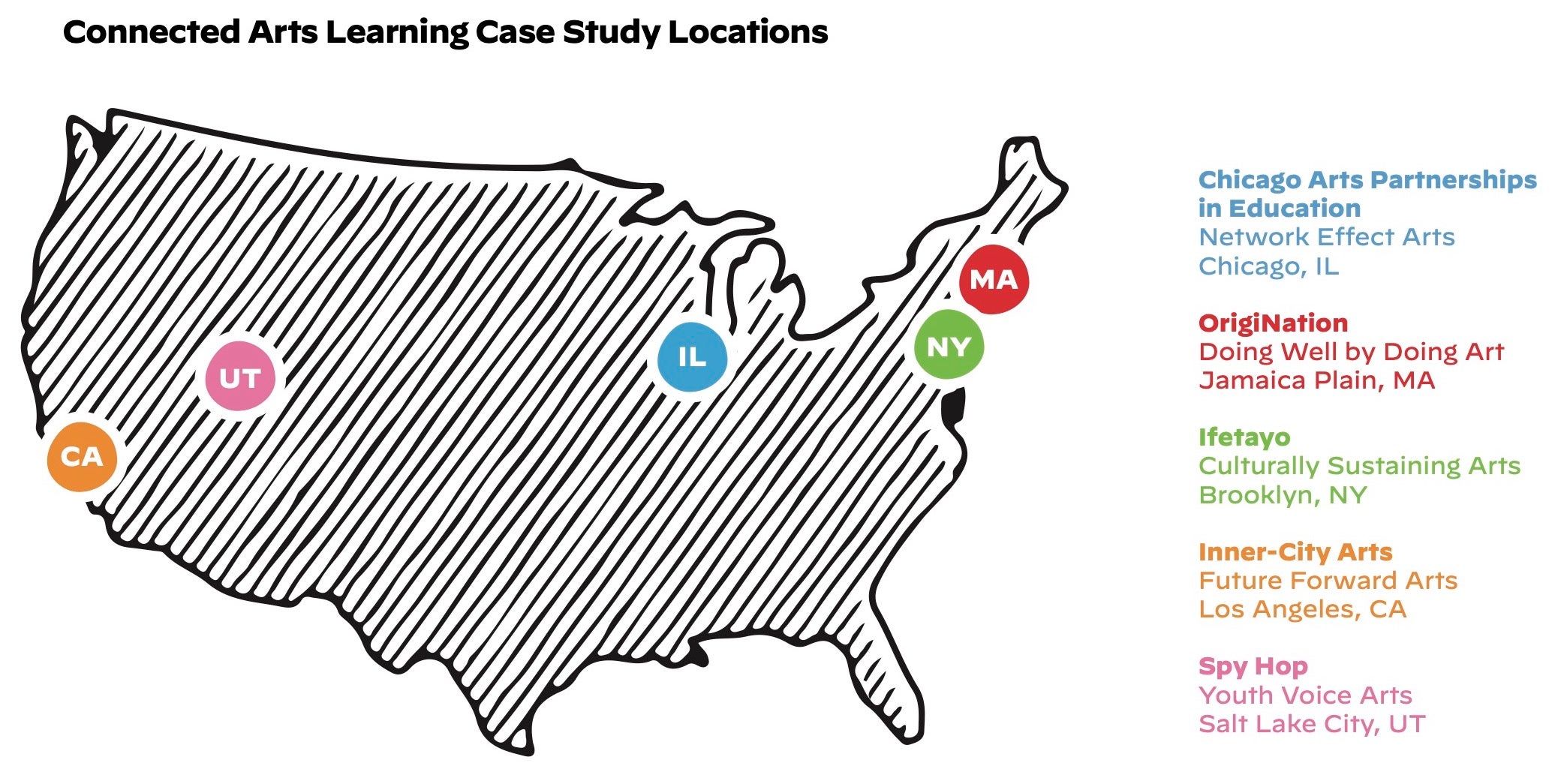 Materials & Downloads
What is the link between the Connected Arts Learning framework and youth well-being in general? 
What approaches beyond the five explored in this report might be identified and used to create a Connected Arts Learning model?
Topics: