​​​States often tread lightly when it comes to strengthening the principals corps. That may be a mistake, says Paul Manna, the Hyman Professor of Government and director of the Public Policy Program at William & Mary. In his new report, How Can State Policy Support Local School Districts as They Develop Principal Pipelines?, he writes that states could do much to encourage the development of the types of pipelines that, according to recent research, can fortify school leadership. These pipelines have seven parts, or "domains"—including rigorous leader standards, high-quality pre-service principal training, strong on-the-job support and evaluation, and "leader tracking systems" with data on the career paths of aspiring and sitting principals—and they are distinctive for being "comprehensive" and "aligned." That is, they cover the range of talent management activities under a district's purview and their parts reinforce one another.
States and local school districts working at the nexus of their intersecting policy responsibilities could build these sorts of pipelines, Manna writes, especially if states recognize that locales vary greatly and, thus, insert reasonable flexibility into policy. Few think this work will be easy, he concludes, but the payoff would be pipelines capable of producing "formidable leaders" who could "transform school communities for the better."
In this interview, conducted by email, Manna discusses major themes from his report, which was commissioned by Wallace.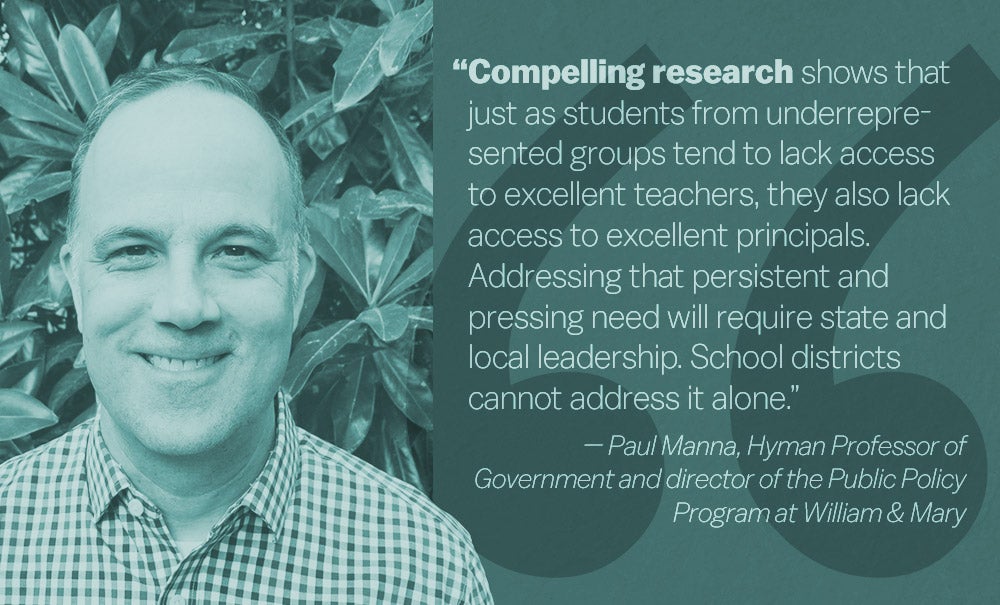 The Wallace Foundation: You say that states can be reluctant to focus specifically on principals to help advance K-12 education. Why is that? And what's the argument for states assuming a stronger role?
Paul Manna: In general, principals don't feature as largely in overall discussions about education. Learning standards, student testing and especially teachers tend to be topics that gather more attention.  Several reasons exist for this disparity. There are many more teachers out there in the world than principals, for example, making them a much larger constituency for politicians.
Why should states take on a stronger role when it comes to principals? For one thing, states possess much formal authority in areas relevant to principals like setting standards for principal preparation programs, principal licensing and evaluation. State officials, especially those new to their positions, sometimes overlook these powers and responsibilities. Another reason for states to engage is the multiplier effect that principals have on excellent teaching and learning.  Ensuring that schools have excellent principals, then, can help states achieve numerous goals that they have in education. 
State involvement can also help advance the goals of equity in education. Compelling research shows that just as students from underrepresented groups tend to lack access to excellent teachers, they also lack access to excellent principals. Addressing that persistent and pressing need will require state and local leadership. School districts cannot address it alone.
WF: How should states decide which domains to focus on?
PM: Identifying an area for focused attention and energy depends entirely on the policy and political landscape within a state. Some states have made more progress in some areas than others.  That's okay and to be expected in a nation as vast as the United States with its fragmented systems of education governance within each state. Picking topics where there is interest and a critical mass of political support could be one way to decide. It might be challenging in a state, for example, to muster support for overhauling principal preparation, a key element of principal pipelines. But it might be easier to adjust processes for principal licensing or license renewal. Or take the role of data use and leader tracking systems. The complexity of getting different data systems to talk with one another to support principal pipelines can be overwhelming. Determining which improvements to state systems can have the most leverage or be done most rapidly to support pipeline work could be one way to set priorities, rather than tackling everything at once. Dialogues between state and local leaders and other principal pipeline supporters will be essential for charting paths forward.
WF: Are there one or two key actions that every state should look at closely?
PM: Yes, two things seem very promising and, fortunately, are not that expensive either. A first state action would be to adopt and put into practice (that's the most important part!) standards that drive state policy and, in turn, help bolster comprehensive and aligned principal pipeline efforts at local levels. That means when states adopt standards for principals those standards are then reflected in the areas of preparation, licensing, evaluation and professional development, for example. The standards are actually used to steer people across the state towards positive activities and behaviors that will help principals succeed on the job. In other words, standards don't just live as unused documents—"dead letters"—in dusty binders or hidden away on agency websites where nobody will see them or use them. They are critical for organizing conversations, and helping to align state policy and local pipeline efforts in productive ways. 
A second state action would be to take seriously the state's power as a convener. States can help foster networks between school districts that are contemplating or developing comprehensive and aligned principal pipelines. That can be an especially valuable contribution for rural districts, which typically lack economies of scale and capacity to begin initiatives like this on their own. Additionally, the convening power of the state also can come into play when states serve as switchboards for collating and distributing valuable information about best practices in principal pipelines. There is a burgeoning research literature in this area that a state could make available to its districts in various ways. That could help districts that find this work overwhelming, or are new it, learn from the experiences of others.
WF: We were struck by one creative possibility for state action that you mention—using principal licensure renewal as a way to cultivate principal mentors. How would that work?
PM: This idea of leveraging the licensing process to promote mentorship is motivated by a couple of findings that come out of the literature. One is that the principalship can be a very lonely job and that strong mentoring is something that principals crave. The other is that good mentoring or professional development around mentoring that is grounded in research-based practices can be expensive and often is the first thing to be cut from state or district budgets when money is tight. 
How to get principals more great mentoring, then? The idea here would be to tie the development of mentors and the practice of mentorship to the licensing that veteran principals need to pursue after they've been on the job for a while. To be clear, I'm not referring to the initial license that a new principal receives, but the process of re-licensing. Across education, for teachers, principals and other school professionals, renewing one's license often amounts to a box-checking exercise where people accumulate some number of continuing education credits or hours, which often involves grabbing whatever opportunities people can get. The result is a license renewal process that often lacks coherence and meaning and, sadly, does not contribute to improved practice. But because we know that principal mentoring is such a valuable activity, state policies that govern licensing could create opportunities (the convening role, again) or incentives for current principals to consider pursuing training to become mentors and then serving as mentors either in their own district or in other districts across their state. The hours principals devote to these activities then could count as hours that go toward the hours required for renewing their licenses. The result would be a much more productive, coherent and relevant set of activities tied to the license renewal process. Such activities also would help enhance the work of comprehensive and aligned local principal pipelines, which could benefit from an overall broader availability of principal mentors across a state.
WF: A 2020 study from RAND, considering principal preparation in seven states, found that none of the states had a statewide leader tracking system. Why should states consider developing these systems to help advance work on principal pipelines?
PM: Pretty much everyone in state policy-making positions or in school district or school leadership positions today will proudly state that they are "data driven" in their work. One of the big challenges for using data to guide practice, though, is that data systems frequently live in silos that rarely talk with one another. (That is not only a problem in education, by the way, but it is common in many fields.) Such silos can create problems for a state or for local school districts that want to support the work of comprehensive and aligned principal pipelines. It would be ideal, for example, to have a data dashboard that could reveal the pre-service preparation and learning experiences of principals; the venues where they've worked as principals and levels of success they've enjoyed; the particular skills and knowledge they bring to the work based on prior teaching, personal characteristics or other work experience; their continuing education experiences; and their proximity to retirement age. That could help school districts, and the state as a supporting partner, forecast emerging needs and make targeted efforts to help develop principals with high-demand skill sets. 
The unfortunate reality today is that many of these data exist, but they live in separate systems that are firewalled from one another. In situations where those barriers can safely come down in ways that ensure data integrity and security, it would go a long way toward seeding the development of tracking systems that local school districts could use. States have potentially big roles to play here because the world of data governance is tightly tied to state policies and regulations, including state regulations that interpret federal policy. It also is asking quite a lot to simply leave the construction of these tracking systems and data dashboards entirely to local school districts. There is a ton of complexity and expense involved, which is beyond the reach of school districts that lack the technical capabilities and people power required to stand up these systems on their own. Partnerships with the states over data governance and use are essential, then.
Related Topics: