Poet Robert Burns instructs us that even the best laid plans can go awry. Political scientist Paul Manna tells us one reason that's so. The people writing the plans, he says, too often fail to think through what they are asking of the people doing the work.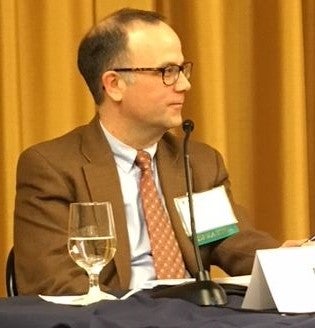 Manna, the Hyman Professor of Government at William & Mary and author of a Wallace-commissioned report examining levers states can pull to bolster principal effectiveness, explored this disconnect recently. The occasion was a meeting of Wallace grantees working to expand the circle of highly effective school principals.
The Every Student Succeeds Act (ESSA) was a central topic of interest in Manna's two keynote speeches. Passed in late 2015 as the latest iteration of the Elementary and Secondary Education Act, ESSA is a leading source of federal dollars for public school education that departs from the past in at least two important ways—giving more authority to states on how to use their federal dollars and, of particular significance to the meeting attendees, offering new possibilities for funding efforts to boost school leadership.
Clearly, states are exploring how to use ESSA funding to enable principals to function as effectively as possible, whether through upgraded pre-service training or other means.  One recent survey of representatives from 25 states taking part in a school leadership effort offered by the Council of Chief State School Officers found, for example, that fully 91 percent consider incorporation of principal-focused work into ESSA school improvement plans a priority.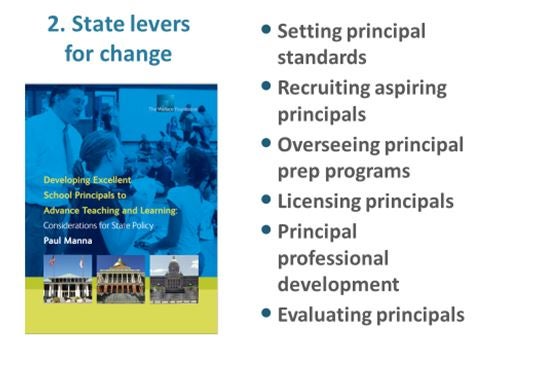 But how best to do this incorporation? Manna advised his audience to avoid devising plans that overlook something basic—the "implied critical tasks" that need to get accomplished if the plans are to unfold as intended. Do​​able plans, he suggested, emerge from an understanding of what they require of the do​ers—state education agency officials, school district managers, principals—"when they wake up and go to work."
Too often, planners falter on this point.  "People who make policy don't always think about—or know about—how the work will be done on the ground," Manna said in a conversation after his addresses. "So there's a typical kind of top-down view, which is why so many things don't get carried out well."
Planners would also do well to understand whether their hoped-for policies will heap additional helpings of work on principals' already heavily laden plates. In his report, Manna cites survey findings suggesting that principals believe they are being called on to do more than ever, "exercising more and more power over matters such as evaluating teachers and setting school performance standards…[while] remain[ing] equally responsible for traditional activities, such as setting school discipline policies and managing budgets and school spending."
Manna suggests a possible solution to this. Look at the last chapter of his report, which counsels state policymakers to "catalogue principals' tasks, in theory and in practice" and to compare what principals actually do with what policies aspire to have them do. The exercise is likely to be an eye-opener for those charged with shaping state policy and might just aid them in using ESSA to its fullest advantage in bolstering principals.
"People are saying this is a moment where we can rethink what we've learned over the last decade or more, where we can rethink roles and responsibilities," Manna told the audience. "And states themselves are supposed to be leading this charge."
A video with excerpts from Manna's talks to the December 2017 gathering of participants in Wallace's University Principal Preparation Initiative is available at our Knowledge Center.
Related Topics: