Research Proposed by Arts Organizations Rooted in Communities of Color
Wallace is supporting several studies exploring issues relevant to the well-being of arts organizations and communities of color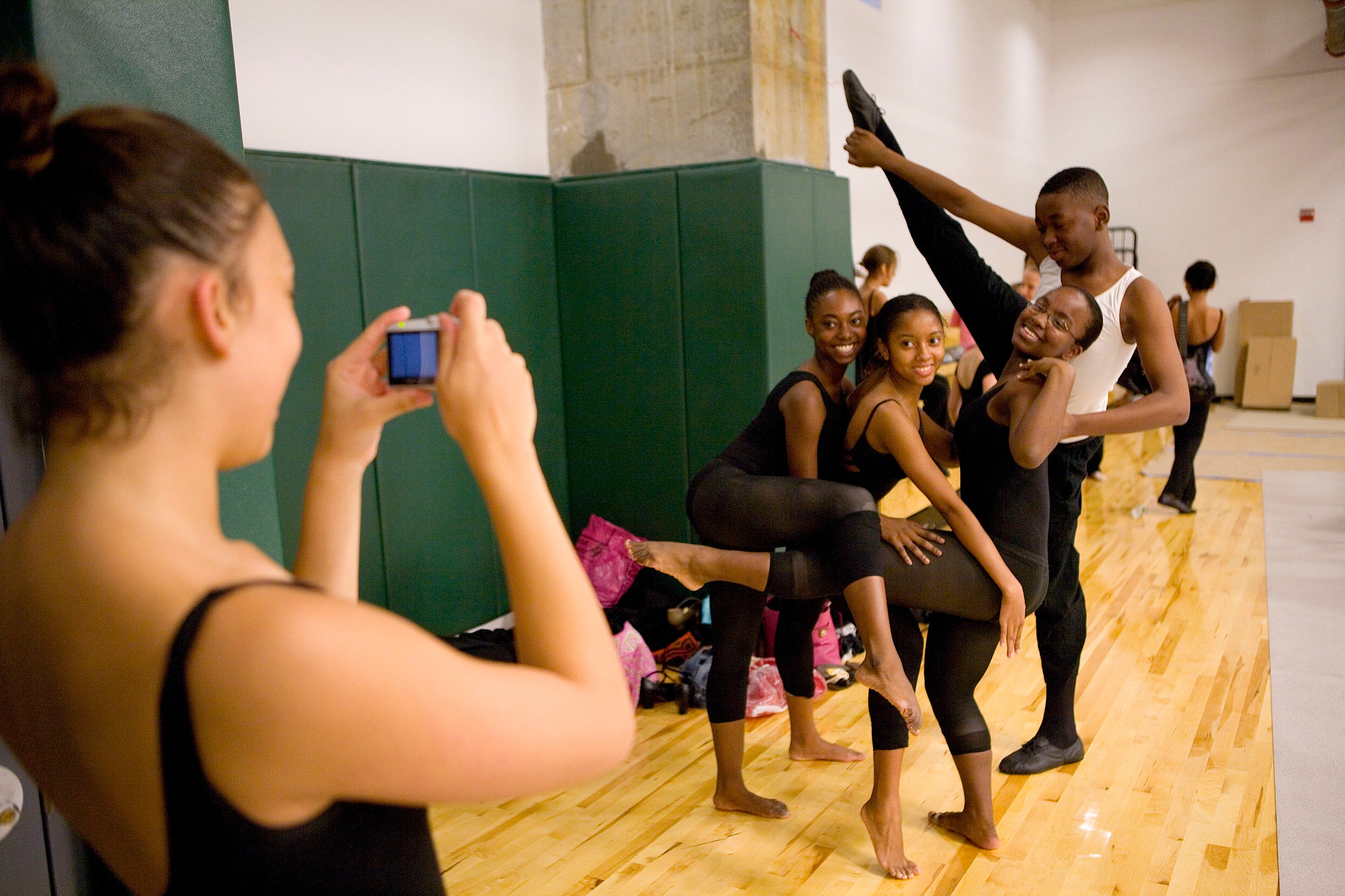 How do arts organizations founded by and for communities of color define their well-being and that of their communities? How do they work towards it?
These are the questions at the heart of our current, $104-million initiative in the arts. To help answer them, Wallace is awarding grants to arts organizations rooted in communities of color to conduct their own research on issues relevant to them and their communities. These projects, described below by the organizations leading them, are designed to advance practice, inform policy, and help build thriving arts communities.
Field studies 
The following studies were designed to bring depth, breadth, and perspective to the ecosystem of arts organizations rooted in communities of color.
Arts Administrators of Color Network, Washington, D.C. 
Arts Administrators of Color Network (AAC) is a service organization that focuses on networking and community building through the arts. AAC fights for equity in the arts through collaborations, forums, and outlets that provide a voice for arts administrators and artists of color where there may not be one.
As part of its work to support and uplift perspectives of artists and arts administrators of the global majority, AAC's study will investigate two research questions. First, when advocating for the arts, what matters most to arts administrators and artists of the global majority? Second, do differences exist based on demographic profiles? Led by principal investigator Dr. Antonio Cuyler, this will be the first research study to center arts administrators and artists of the global majority as assets with critical insights that can inform a national arts advocacy agenda.
Camden FireWorks, (Camden, N.J.)
Located in a renovated and rehabilitated firehouse, Camden FireWorks is a Black-integrated community-based arts nonprofit that uses art to create social change. Connecting artists with the local community, Camden FireWorks puts together collaborations and community programming such as exhibitions and communal gatherings while also providing support to artists through grants and affordable studio space.
Camden FireWorks will partner with the Smithsonian Center for Folklife and Cultural Heritage to design a study that seeks to challenge traditional metrics for determining a thriving or vital arts ecosystem and bring to the fore cultural indicators that reflect the aspirations of the Black artist community in cities like Camden. Through extensive conversations with artists from the Camden community to refine research questions, approach, and instruments, the study will contribute to Camden's understanding of its arts and culture economies and establish a foundation for future research projects exploring alternative models for arts economies to reflect the cultural perspectives of artists who live, work, and demonstrate their resilience in economically challenged communities.
BIG We Foundation, (Memphis) 
BIG We Foundation uses cultural strategy that contributes to well people, cultures, communities, and the planet where we can all experience sustained safety, joy, love, and abundance. It does this through its three priority areas of Girls and Womxn, Restorative Economics, and Environmental Wellness in the South.
Using community-based participatory research, BIG We Foundation will study how philanthropic and arts organizations can best support Black artists, creatives, and cultural entrepreneurs in Memphis to co-create an infrastructure, economy, and behaviors that build and sustain cultural and economic drivers grounded in Black imagination. The study aims to generate data and information for the organization's Southern Shift Initiative program, which seeks to employ cultural and economic models for community restoration and healing, and will provide valuable insight on community capital, infrastructure, and technical assistance needs.
Cave Canem, (Brooklyn, N.Y.) 
Founded in 1996, Cave Canem is a nonprofit organization committed to cultivating the artistic and professional growth of Black poets. Founded by artists for artists, Cave Canem fosters community across the diaspora to enrich the field by facilitating a nurturing space in which to learn, experiment, create, and present. Cave Canem develops audiences for Black voices that have worked and are working in the craft of poetry.
Black literary organizations provide essential support to the literary community and model resilience in the face of concentric disparities. However, the organizational systems that drive the impact of these underfunded but vital engines remain under-examined and undocumented. Cave Canem and its research partner, Ithaka S+R, will conduct a study exploring the organizational needs, strategies, and models that enable Black literary organizations in the United States to thrive despite adverse socioeconomic conditions.  
Chinese Culture Center of San Francisco, (San Francisco) 
The Chinese Culture Center of San Francisco (CCC) is an art and culture institution, based in San Francisco's Chinatown, dedicated to elevating underserved communities and giving voice to equality through education and contemporary art via projects, exhibitions, community engagement initiatives, and creative place-making approaches.
Despite increasing recognition of the arts' contributions to community and individual development, there is a lack of focus on understanding the practices and strategies employed by arts and culture organizations of color to weather crises and how they can create lasting changes. With researchers, Dr. Yifan Xu and Xiaoxiao Bao, CCC will design a mixed-methods study that investigates CCC's public programming, artist services, partnerships, and advocacy as critical to the organization's resilience. The planning project will produce a full research plan examining how these arts service organizations can cope with crises and create structural changes through three areas of organizational resilience inspired by CCC's practice, which includes sustained engagement, cross-sector partnership, and safe spaces.
First Peoples Fund, (Rapid City, S.D.) 
First Peoples Fund honors and supports the Collective Spirit®—that which moves each of us to stand up and make a difference, to pass on ancestral knowledge, and simply extend a hand of generosity—of First Peoples artists and culture bearers. The organization's work recognizes the power of art and culture to bring about positive change in Native communities, beginning with individual artists and their families.
In partnership with NORC at the University of Chicago, Dr. Jennifer Novak-Leonard, Native research scholar Dr. Desi Small-Rodriguez, and Native artists and culture bearers, this study will produce community-informed survey measures that more accurately reflect and capture the ways in which Native peoples engage with and work within the arts and culture sector and tribal economies. Ultimately, the goals of the study are to advance the Native arts and culture field by addressing the lack of knowledge around and lack of visibility of Native people's arts and cultural engagement on the national level, and informing and holding accountable national discourses where decisions are being made based on national arts and culture data.
IllumiNative, (Tulsa) 
IllumiNative builds power for Native peoples by amplifying contemporary Native voices, stories, and issues to advance justice, equity, and self-determination. Its research, narrative, and culture-change strategies, movement-building, and organizing seek to disrupt the invisibility of Native peoples, re-educate Americans, and mobilize public support for key Native issues.  
IllumiNative will conduct an expansion study based on its 2016-2018 Reclaiming Native Truth project, which created a framework for asset-based narratives that build the visibility of contemporary Native peoples and shift public misperceptions. The updated findings will be used to inform Native-driven narratives and creative content that moves hearts and minds in support of Native peoples and fights systemic racism.
The Latinx Theatre Commons, (United States) 
Latinx Theatre Commons is a national movement that works to transform the narrative of the American theater, amplify the visibility of Latinx performance making, and champion equity through advocacy, artmaking, convening, and scholarship.
The Latinx Theatre Commons will partner with researchers at University of Maryland, UC San Diego, and the University of Miami to develop a white paper outlining a research plan for archiving Latinx theatre and performance history for the field. The report will address gaps in published scholarship and strategies for disseminating information by examining current challenges and needs around ensuring the creation and sustainability of a robust Latinx theatre archive. The research team will analyze the current landscape of various theatre archives, draft forward-looking strategies for Latinx theatre archives, and generate an action plan for writing a methodologically innovative Latinx theatre history, intended to also serve as a model for other historically marginalized theatre sectors.
Mosaic America, (San Jose, Calif.) 
A leading Silicon Valley arts service organization, Mosaic America's mission is to cultivate belonging and foster social cohesion through inter-cultural and co-created art.
Mosaic Atlas is an interdisciplinary cultural asset mapping project spearheaded by Mosaic America and San Jose State University to learn about and highlight assets within culturally distinct communities. Mosaic America's research expansion study will build upon Mosaic Atlas, surveying and mapping Black, Indigenous, and People of Color artists and culture bearers in the urban communities of Santa Clara and San Francisco Counties and the rural communities of coastal San Mateo County. The study's technology-enabled innovative cultural mapping approach is designed to facilitate cultural arts connections across historically siloed communities and promote awareness for greater access to resources and audiences.
National Association of Latino Arts and Cultures, (San Antonio) 
The National Association of Latino Arts and Cultures (NALAC) delivers programs and resources that stabilize and revitalize the U.S. Latino arts and cultural sector with its multigenerational, multiethnic, and interdisciplinary community of Latino artists and nonprofits spanning urban and rural communities.
In partnership with NORC at the University of Chicago, NALAC will replicate and expand on its 2019 State of Latino Arts & Culture Organizations, a national assessment of the Latino arts and culture field. The contributions of thousands of Latino artists and organizations in the U.S. remain unknown and underrepresented in the systems, structures, and research that support the mainstream arts sector today. This research expansion project is intended to advance the needs and raise the visibility of Latino arts and culture organizations. The project will include field surveying and analysis and will result in the development of an interactive website and digital advocacy toolkit, allowing stakeholders to access the findings and effectively use the information to advance the important work of Latinx arts and cultural organizations.
The South Asian American Digital Archive, (Philadelphia)
South Asian American Digital Archive (SAADA) uses the power of stories to create belonging for the more than 5.4 million South Asian Americans.
Archives reflect and enable an organization's agency in deciding how its stories are shared with the public. However, to date, there is a significant discrepancy in archival representation between arts organizations of color and predominantly white arts institutions. SAADA's study will investigate the resources arts organizations of color need in order to best document, preserve, and share their own histories. It will explore how these documentation practices can challenge dominant archival methods and envision new liberatory practices.
Silk Road Rising, (Chicago)
The Chicago-based and community-centered artmaking and arts service organization Silk Road Rising is rooted in Pan-Asian, North African, and Muslim experiences and uses storytelling, digital media, and arts education to cultivate new narratives, challenge disinformation, and promote a culture of continuous learning.
Silk Road Rising will partner with researchers Roaa Ali from the University of Manchester and Nour Halabi from the University of Aberdeen to examine the role and impact of arts service organizations in shaping the American Southwest Asian and North African (SWANA) theatre community over the last two decades. The study will contribute to the growing body of research on historically marginalized SWANA arts service organizations and their relationship to their communities. Employing a cultural mapping method, Silk Road Rising will visually map out its networks, influence, and impact and engage in conversations with SWANA theatre makers to identify community needs and cultural resources that can be addressed by arts service organizations.
World Arts West, (San Francisco) 
Over the course of 40 years, World Arts West has presented and provided capacity-building services to more than 450 grassroots dance organizations representing more than 100 cultural dance traditions. Many of these organizations are led by Black, Indigenous, and People of Color (BIPOC) artists and culture bearers based in BIPOC, immigrant, and refugee communities with little access to foundation and public funding.
This study will investigate the needs and interests of grassroots, culturally specific dance organizations—which are often not documented or under-documented in funder and arts service organizations databases—and how community-based intermediary organizations like World Arts West evolved over time to address those needs. By addressing the gap in the dance field's knowledge base, the study adds to understandings of the larger ecosystem of BIPOC arts communities to assist funders, policymakers, and scholars in designing better strategies to sustain and nourish these arts communities.
Community cultural development studies
These studies seek to produce insights into artistic and cultural approaches to support the well-being of communities of color.
Mississippi Center for Cultural Production, (Utica, Miss.)
The Mississippi Center for Cultural Production also known as Sipp Culture, is a Utica, Miss.-based nonprofit that supports community from the ground up through cultural production focused on self-determination and agency. Working at the intersection of food and story to support community development in the rural south, Sipp Culture serves as an approach and resource for cultivating thriving communities.
Sipp Culture is partnering with researchers at RISE Research & Evaluation and the Center for Africana Studies at Indiana University, Indianapolis to explore how artists can serve as, and also support, community health workers to enhance the health and wellness of the rural Black community of Utica. Using qualitative and community-based participatory research approaches, the team will collect and analyze oral histories of fellow Utica residents to develop culturally responsive and arts-centered health worker training approaches.
National Coalition for Asian Pacific American Community Development, (Oakland, Calif., and Washington, D.C.) 
The National Coalition for Asian Pacific American Community Development (National CAPACD) is a nonprofit working to advance equity and create healthy neighborhoods by mobilizing and strengthening Asian American, Native Hawaiian, and Pacific Islander (AA and NHPI) community-based organizations.
With researchers from the University of Washington, Rutgers University, and the University of Arizona as partners, National CAPACD will explore how community arts initiatives expand a community's capacity to address socioeconomic, cultural well-being, and historical and structural disparities facing AA and NHPI communities. The research team will use a mixed-methods, asset-based, and participatory approach to conduct a survey on current community arts initiatives and select case studies sites for a more in-depth study.
Support Oakland Artists, (Oakland, Calif.) 
Support Oakland Artists is a nonprofit organization that focuses on utilizing the arts as a community development lever, enhancing local artists' ability to thrive, and increasing community participation in cultural activities.
Support Oakland Artists will partner with Creative Development Partners, East Oakland Black Cultural Zone Collaborative, and research organization Storied Light Consulting to conduct a study that uses interviews, surveys, observations, social network mapping, and an interactive media platform to collect data exploring how gentrified spaces are impacting Black public art, Black identity, and Black economic development. The study will be used to inform the creation of a network of cultural hubs in East Oakland with learnings disseminated to partners, community stakeholders, and academic scholars through journal articles, publicly available reports, and town halls. 
Research-practice partnerships with arts organizations of color
Scholars and researchers are working with arts organizations rooted in communities of color to address shared questions of interest.
Critical Ecology Lab, (Oakland, Calif.) 
The Critical Ecology Lab utilizes scientific training, creative practices, and lived experiences to question and inform the public about how the invisible, unjust systems that shape our world have brought on the current environmental crises.
Critical Ecology Lab will partner with the Public History Project/Price Institute-Rutgers at Newark and Arts in a Changing America to develop a study that equips artists to address the colonial, ecological, and extractive histories of the Lower Connecticut, Long Island, New York City, and Northern New Jersey estuarial bioregion. The proposed study, which is intended to contribute to a growing body of research that bridges environmental crises and settler colonialism, will explore how historical, ecological, and biogeochemical datasets and findings can be deployed by artists to enrich their artistic practices and their contributions to their communities' well-being.
Kyoung's Pacific Beat, (Brooklyn, N.Y.) 
Kyoung's Pacific Beat is a peacemaking theater company based in Brooklyn, N.Y., that centers stories of (im)migration, queerness, identity, and the ways these intersect in communities of color to transform experiences of oppression into peace messages through public performance.
Kyoung's Pacific Beat will be partnering with an interdisciplinary team of researchers to develop a research plan to better understand the aesthetics, structural barriers, and conditions necessary for peacemaking theater to thrive throughout the United States. This research is intended to contribute to an emerging but under-theorized topic, in both research and practice, at the intersection of peacebuilding and the arts.
Media and Data Equity Lab at Northwestern University, (Chicago)
Northwestern University's Media and Data Equity (MADE) Lab is a research lab focusing on inequity in media and technology systems and experimenting with cultivating equitable systems.
MADE Lab will work in partnership with Open Television and Detroit Narrative Agency to document barriers to film and media employment equity in the Midwest. MADE Lab will develop a database that offers pay transparency and connections to resources for diverse storytellers and craftspeople in the Midwest, a region where independent—as well as commercial film and television production—has increased significantly over the past two decades and where there has been little academic or industry research on efforts to bring equity to film and television.