Research Into Arts Organizations and Communities of Color
Researchers work to document the histories, contributions, and needs of a rarely studied group of arts organizations.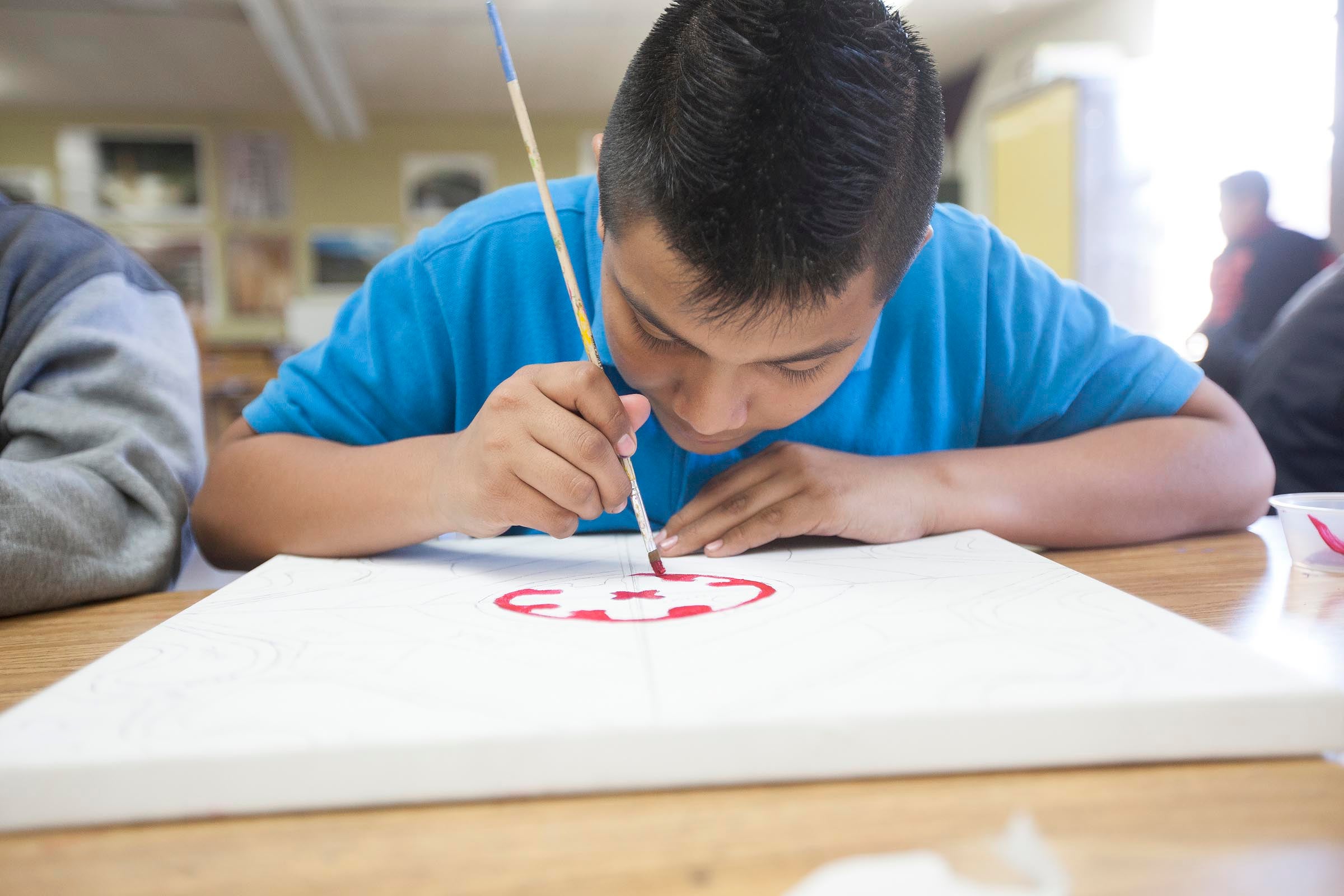 What drives communities of color to create arts organizations? How do the organizations they found define success? How do they work towards it? What special challenges do they face? How do they overcome them? 
These are just a few of the questions 18 research fellows are helping to answer as part of Wallace's new arts initiative. We designed the initiative to support arts organizations founded by and for communities of color and to help us better understand their strengths, their challenges, and the support they may need to thrive. 
The 18 fellows are helping us meet the second of these goals. The Social Science Research Council, a century-old nonprofit that oversees social-science research throughout the world, has placed each of the fellows with the 18 largest organizations we are funding. With the council's support, the fellows are exploring the histories of the organizations and the hurdles they must overcome to thrive. 
Below are summaries of the fellows' work. Please be sure to check this space for updates about what the fellows learn.
Monica Barra and the Harvey B. Gantt Center for African-American Arts and Culture 
Monica Patrice Barra, a cultural anthropologist, ceramicist, and assistant professor at the University of South Carolina, is working with the Harvey B. Gantt Center for African-American Arts and Culture, a nearly 50-year-old institution in Charlotte, N.C. Barra is tracing the center's history, from its origins in student activism of the 1960s to its current role as a hub for African American music, dance, theater, film, literature, and visual art. She is exploring the center's relationship to African-American communities in Charlotte and how it would like to see these relationships evolve. 
Amanda Boston and the Laundromat Project
Amanda Boston, an assistant professor of Africana studies at the University of Pittsburgh, is working with the Laundromat Project, a Brooklyn-based organization that works to use art to promote social change for communities of color throughout New York City. Boston is exploring how the Laundromat Project can best harness its resources to help amplify the voices of communities of color and help them advocate for their interests.
J.V. Decemvirale and Self-Help Graphics Graphics & Art
J.V. Decemvirale, an assistant professor of art history and global cultures at Cal State San Bernardino, is working with Self-Help Graphics & Art, a printmaking organizations in Los Angeles that focuses on work by artists of Mexican and Latin American heritage. Decemvirale is conducting interviews and public discussions to explore the organization's fifty-year history and study the effectiveness of the strategies it has used. 
Ying Diao and the Ragamala Dance Company 
Ying Diao, an ethnomusicologist and cultural anthropologist, is working with the Ragamala Dance Company, a 30-year-old presenter of traditional South Indian dance in Minneapolis. Diao is exploring the ways in which Ragamala works to make its art relevant to contemporary American tastes and how its target audiences perceive its efforts. 
Claudia Sofia Garriga-Lopez and Museo de Arte Contemporáneo de Puerto Rico
Claudia Sofia Garriga-Lopez, an assistant professor of queer and trans Latinx studies at California State University, Chico, is working with Museo de Arte Contemporáneo de Puerto Rico, an organization that focuses on art produced since the mid-20th century in Puerto Rico, the Caribbean, Latin America, and their diasporas. Garriga-Lopez is studying the history of the MAC en el Barrio, an effort that hires local artists to produce art with local communities in towns all over Puerto Rico. 
Timnet Gedar and Chicago Sinfonietta 
Timnet Gedar, a writer, historian, secretary of PEN Eritrea, and Ph.D. candidate at the University of Michigan, is working with Chicago Sinfonietta, an orchestra that has sought for 36 years to promote racial and cultural equity in classical music. Gedar is studying why the sinfonietta was founded, how it found its feet, how it has evolved, and how its work may have influenced other classical orchestras. 
Nazanin Ghaffari and the Rebuild Foundation 
Nazanin Ghaffari, a researcher, architect, urban designer, and urban planner, is working with the Rebuild Foundation, an artist-led, neighborhood-based cultural organization on the South Side of Chicago. Ghaffari is studying how the Rebuild Foundation has and could use its physical space and location to strengthen its community, serve as a voice for the community, and help the community reverse the effects of discriminatory practices that have long acted against it. 
Davinia Gregory-Kameka and BlackStar 
Davinia Gregory-Kameka, a researcher who has studied how the closure of Black-led arts organizations affects their communities, is working with BlackStar, a film organization in Philadelphia that highlights the work of Black, Brown, and Indigenous artists. Gregory-Kameka is exploring the relationships that have allowed the organization to thrive and could help it continue to grow. In particular, Gregory-Kameka is studying the apparent effects of physical locations on BlackStar and its target audiences, an issue of particular concern as gentrification disperses communities that support organizations such as BlackStar. 
Cameron Herman and 1Hood Media
Cameron Herman, assistant professor of sociology and affiliate faculty member in Africana Studies at Buffalo State College, is working with 1Hood Media, an arts, education and social justice organization in Pittsburgh. He is exploring how the organization got its start, how it evolved and how it arrived at the particular mix of art and activism that defines it today. By learning more about the organization's past, Herman and 1Hood hope to identify the people, skills and capabilities that have helped it thrive and could pave its path into the future. 
siri gurudev hernández and the Esperanza Peace and Justice Center
siri gurudev hernández, a writer, performance artist, activist, and researcher, is working with the Esperanza Peace and Justice Center, a community-arts and social-justice organization in San Antonio. hernandez is documenting the history, culture, and values of the Esperanza Peace and Justice Center, with a focus on the ways in which it works to promote solidarity among diverse groups in San Antonio and beyond.   
Raquel Jimenez and Pregones/Puerto Rican Travelling Theater 
Raquel Jimenez, a researcher and lecturer at Harvard University who focuses on education, art, culture and community engagement, is working with Pregones/Puerto Rican Traveling Theater, a performing ensemble and arts presenter in New York City. Jiminez is studying how the organization balances its commitment to its art with its commitment to its community, and how it could use its twin focus to build a foundation for growth in the future. 
Asif Majid and the Arab American National Museum 
Asif Majid, assistant professor of theater and human rights at the University of Connecticut, is working with the Arab American National Museum in Dearborn, Mich. Majid is studying the ways in which the museum has grown and evolved since it was founded in 2005 to highlight Arab-American contributions to the U.S. He is focusing in particular on perceptions of the institution among Arab-American communities, both in Dearborn and throughout the country, and how the museum could best use its ties to such communities to serve as a voice for Arab-Americans and to foster conversations among them. 
Jason Price and the Pillsbury House + Theatre 
Jason Price, a sociocultural anthropologist and filmmaker, is working with the Pillsbury House + Theatre, a 31-year-old community-based theater in Minneapolis. Price and the Pillsbury House + Theater are defining the scope of Price's work, which is expected to include a study of how the theater presents itself to different audiences, how it can balance the needs of its community with the goals of its donors, and how it can use past experiences to improve future work. 
kt shorb and Theater Mu
kt shorb, an assistant professor of theater and dance at Macalester College, is working with Theater Mu, an Asian American theater company in Saint Paul, Minn. shorb is exploring the theater's relationships with and impact on Asian American communities in Saint Paul and beyond. 
Silvia Rodriguez Vega and the Queer Women of Color Media Arts Project
Silvia Rodriguez Vega, a writer, artist, an assistant professor at University of California Santa Barbara's Department of Chicana and Chicano Studies, is working with the Queer Women of Color Media Arts Project, a film organization in San Francisco. Rodriguez Vera is documenting the history and values of the organization.
Jaleesa Renee Wells and the Eastside Arts Alliance
Jaleesa Renee Wells, an artist, entrepreneur, and an assistant professor of arts administration at the University of Kentucky, is working with the Eastside Arts Alliance, an organization that presents cultural programming, public art projects, gallery exhibitions, and youth art classes in Oakland, Calif. Wells is studying the separate histories of the three organizations that came together to create the Eastside Arts Alliance and the ways in which they found common purpose to work towards a common goal.
Jason White and the Union for Contemporary Art 
Jason White, assistant professor at Xavier University and coordinator of its arts administration minor, is working with the Union for Contemporary Art, a community-focused arts organization working to inspire social change in a historically Black area of Omaha. White is producing an oral history of the organization that includes an exploration of the organization's relationships with its community, the conditions that have enabled the organization's growth, the challenges that have held it back, and the assets it has used to overcome these challenges. 
DeRon Williams and The Philadelphia Dance Company 
DeRon Williams, a director, dramaturg and assistant professor of theater at Loyola University in Chicago, is working with the Philadelphia Dance Company, a 53-year-old training and performance institute. Williams is compiling a history of the organization, from its origins as an effort to create space for Black dancers to its current position as a respected arts organization and a voice for dancers of African descent around the world.