The Wallace Foundation Names Rotunda Floyd-Cooper, Ed.D., Director of Education Leadership
The Wallace Foundation Names Rotunda Floyd-Cooper, Ed.D., Director of Education Leadership
​​​FOR IMMEDIATE RELEASE
12:01 a.m. March 1, 2023

Lucas Held,
lheld@wallacefoundation.org
(646) 942-1894

Lauren Pescatore,
lpescatore@thehatchergroup.com
(240) 328-5968
​
The Wallace Foundation Names Rotunda Floyd-Cooper, Ed.D., Director of Education Leadership​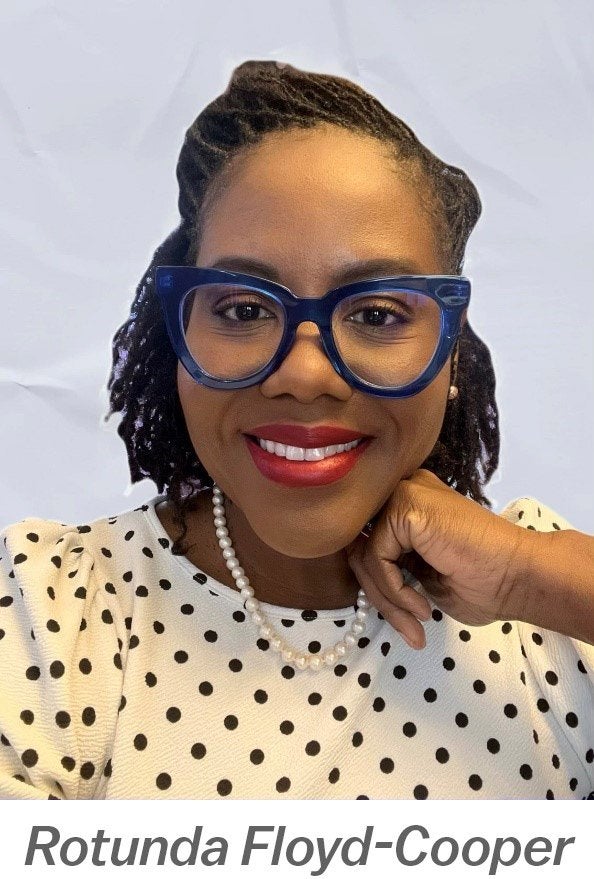 New York, New York, March 1, 2023 – Rotunda Floyd-Cooper, Ed.D., has been selected as The Wallace Foundation's director of education leadership, effective April 17, 2023, the foundation announced today. Currently an associate superintendent in Montgomery County Public Schools, Floyd-Cooper brings deep experience in a variety of leadership roles in school districts.
"We're delighted to have Rotunda Floyd-Cooper join the team at Wallace as director of education leadership," said Will Miller, president of The Wallace Foundation. "Dr. Floyd-Cooper is an accomplished leader with wide experience in helping districts build data-informed systems designed to advance the professional learning of educators and improve academic outcomes for students. Deeply committed to equity and a keen listener, she's also skilled at building broad support for efforts focused on school leadership at a time when the work of principals in creating the conditions for teaching and learning is more important than ever."
As director of education leadership, Floyd-Cooper will lead the education leadership unit at the foundation and the interdisciplinary education leadership strategy team comprised of representatives from program, research and communications, as well as be a member of Wallace's senior management team. She will oversee the Equity-Centered Pipeline Initiative, a $102-million effort to explore how to build comprehensive, aligned principal pipelines that can produce school leaders capable of advancing their own district's vision of equity—along with the Principal Pipeline Learning Community and other projects.
"For nearly a decade I have had the opportunity to learn about the possibilities as an education leader through the work of The Wallace Foundation in collaboration with school districts and state education agencies around the country," said Floyd-Cooper. "I look forward to partnering with my colleagues at The Wallace Foundation to continue the legacy of promoting innovation and leveraging and sharing key learnings that will continue to positively impact education as a practice."
Floyd-Cooper succeeds Jody Spiro, Ed.D., who stepped down at the end of December after two decades of service.
In her current role as associate superintendent of Montgomery County Public Schools, Floyd-Cooper provides instructional leadership coaching and development for principal supervisors, monitors school improvement planning processes for over 70 schools and serves on a team that designs the district's professional learning system for current and aspiring leaders.
Prior to this role, Floyd-Cooper was the director of learning and achievement for the district, providing coaching and instructional leadership support to 24 principals and their leadership teams. Her other leadership roles in three districts in Maryland include assistant principal, director of curriculum innovation, school improvement specialist and principal. Floyd-Cooper began her career in education as a math teacher in Miami-Dade County Public Schools, later joining the Johns Hopkins Applied Physics Laboratory where she was the executive director for the Maryland Mathematics, Engineering, Science Achievement, a statewide program focused on promoting STEM education and careers among minority students in grades 3-12. 
She holds an Ed.D. from the University of Maryland, an M.S. in applied mathematics from Virginia Tech, an M.Ed. from Virginia State University and a B.S. from Hampton University.

###
About The Wallace Foundation
Based in New York City, The Wallace Foundation is an independent national philanthropy whose mission is to foster equity and improvements in learning and enrichment for young people, and in the arts for everyone. Current areas of interest include school leadership, expanding and diversifying audiences for the arts, social and emotional learning, summer learning, arts education, and afterschool. Wallace aims to help solve problems facing the fields in which it works, benefiting both the organizations it funds directly and the broader field by developing credible, useful knowledge to inform policy and practice nationwide. Research commissioned by and produced by the foundation is available without charge from the Knowledge Center at www.wallacefoundation.org.