Wallace Foundation Names New Chief Financial Officer/Treasurer
Stacy Martin Named Wallace's New Chief Financial Officer and Treasurer
FOR IMMEDIATE RELEASE
Press contact:
Lucas Held
Director of Communications
212-251-9782
Stacy Martin, Former Chief Operating Officer of New Visions for Public Schools, Brings Three Decades of Experience to New Post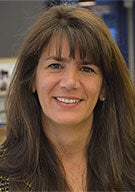 New York, N.Y., December 16, 2014
– The Wallace Foundation has named Stacy J. Martin its chief financial officer and treasurer, effective December 15. Martin brings to the foundation nearly three decades of financial management experience in the private, public and non-profit sectors, with a focus on developing policies and procedures to improve performance and productivity.
"Stacy is an accomplished senior manager who has proven her ability to help complex organizations manage efficiently and effectively," said Will Miller, president of The Wallace Foundation. "Her broad knowledge, perspective and experience will help her play an important role as we continue to strengthen the impact of our philanthropy."
Prior to joining Wallace, Martin worked at New Visions for Public Schools, a non-profit that supports 86 public schools in New York City, where she was chief financial officer since 2003, and, since 2010, also chief operating officer. From 1996 to 2000 she held leadership positions in the New York City government, including the city's housing, budget and education departments. She also served as comptroller for Sportvision, a nationwide media corporation, from 2000 to 2002. She helped these organizations define their strategic direction, prepare new business plans, streamline financial and procedural policies to improve productivity, and create monitoring and accountability systems.
"I'm thrilled to be joining The Wallace Foundation in its third decade of helping strengthen learning and enrichment opportunities for disadvantaged children and the vitality of the arts," she said. "Its commitment to open communication and disseminating knowledge are values that I share. I look forward to working with staff and grantees as the foundation continues its rich history of positive impact."
Martin succeeds Mary Geras, who retired this year after more than 22 years of service as the foundation's chief financial officer and assistant treasurer.
Martin holds a Bachelor of Science in business from Long Island University, C.W. Post.
Based in New York City, The Wallace Foundation is an independent, national foundation dedicated to fostering improvements in learning and enrichment for disadvantaged children and the vitality of the arts for everyone. It seeks to catalyze broad impact by supporting the development, testing and sharing of new solutions and effective practices. At www.wallacefoundation.org, the foundation maintains an online library about what it has learned, including knowledge from its current efforts aimed at: strengthening education leadership to improve student achievement, helping selected cities make good afterschool programs available to more children, expanding arts learning opportunities for children and teens, providing high-quality summer learning programs to disadvantaged children and enriching and expanding the school day in ways that benefit students, and helping arts organizations build their audiences.