The Principal Story Project
These resources can guide discussion about effective school leadership. They include clips from a PBS-aired documentary about two school principals as well as related short videos and written materials. Together they offer food for thought on how to develop and support educators with a tough but essential job.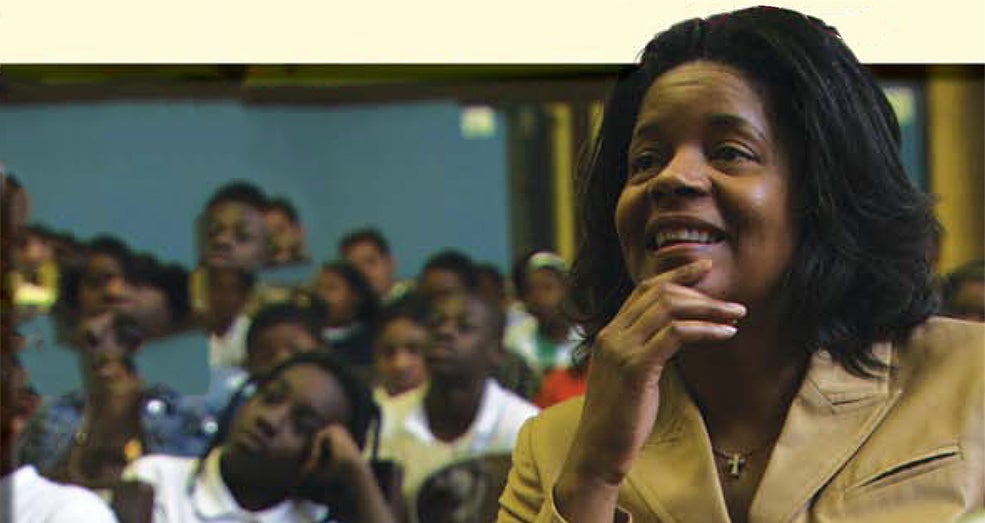 The Principal Story follows two principals working tirelessly to create schools where students succeed despite big odds against them. The documentary was the basis of guides to promote discussion of how to build effective school leadership. Written materials accompany clips from the film as well as short videos on aspects of school leadership. The 60-minute documentary can be purchased from Nomadic Pictures. Wallace funded the project and the film, which aired on PBS in 2009 to critical acclaim.
The Principal Story Project Resources
These guides and videos were part of The Principal Story Project. They can foster discussion of how to strengthen school leadership. The National Staff Development Council, today called Learning Forward, wrote the guides. The organization serves those who work in educator professional development.
The Principal Story Reel
This reel presents key moments from The Principal Story. It captures four major themes in effective school leadership: stewardship of a vision, leading instructional improvement, creating the instructional environment, and holding people accountable. The video opens with comments from former U.S. Secretary of Education Arne Duncan. 
Interview With One of the Film's Principals

'Get in Classrooms:' A Lesson About School Leadership From Kerry Purcell  

Purcell was principal of Harvard Park Elementary School in Springfield, Ill. 

WHAT DID THE FILM LEAVE OUT?

Ideally, "instructional leadership" occupies half a principal's day, but time constraints prevented the film from fully capturing all this entails: developing, executing and participating in professional development; reallocating resources to enhance teaching; hiring and evaluating staff; making data-based decisions, for example.

WHO HELPED YOU AS PRINCIPAL?

Two people especially helped me see beyond clouded emotions so I could make sound decisions. One was a principal-trainee who relieved me of lunchroom and other tasks that would have kept me from instructional duties. She also happened to be a great sounding-board. The other was another elementary school principal. Together we formed a two-person professional learning community. Once, for example, I had to figure out what to do about a tenured teacher whose lesson-planning and behavior-management skills were so poor that her students – kindergartners – were suffering badly. My colleague gave me the encouragement, guidance and courage I needed to handle this difficult problem and, ultimately, remove the teacher from the classroom.

WHAT KEY MESSAGE SHOULD VIEWERS TAKE FROM THE FILM?

The goal of education is not simply to teach a child but to reach a child.

WHAT ADVICE WOULD YOU GIVE ASPIRING PRINCIPALS?

Here's my top 10 list:

Lead with your head and your heart.
Shape a culture of learning through establishing routines that foster a sense of safety.
Build relationships. People don't care what you know until they know you care.
Get in classrooms.
Find a mentor or coach, and meet with that person regularly.
Use data to advocate for your school.
Set high expectations for yourself, your staff, students and families, and the community.
Develop goals and make a plan, but don't overfill your plate.
Open the door and communicate. Remember you set the tone for the building.
You can't be good to others unless you're good to yourself. Airlines tell you to put on your own oxygen mask before helping your neighbor. That's a great life lesson.
GET THE LATEST UPDATES
Sign up to receive our monthly email newsletter and news from Wallace.