​Last spring the role of the principal changed overnight and continues to evolve. As the pandemic took hold, principals almost immediately shifted from leading a school within a building to leading virtual schools. Principal supervisors had to pivot, too.
Strong principal supervisors are high-touch with their principals, working with them intensively one-on-one and in learning communities, often in school buildings. How are they adapting to the online environment? What seems promising? What new supports do they need to adapt successfully?
This summer, Meredith Honig, a professor and director of the District Leadership Design Lab at the University of Washington, and Nancy Gutiérrez, president and CEO of The Leadership Academy, a national nonprofit organization, took on this question in a webinar in the series Education Leadership for a Digital World. The series was hosted by Digital Promise, with support from Wallace.
After watching the replay of the webinar, I reached out to Gutiérrez and Honig for a follow-up conversation aimed at learning what principal supervisors can do to support their principals as the pandemic continues. If you are anything like me, you will be blown away by the depth of knowledge they shared in response to my questions. An edited version of our conversation follows.
How can principal supervisors be most supportive of principals now?

Honig: It's as important as ever for principals to be leading powerfully for high-quality, culturally responsive, anti-racist teaching and learning. The shift to remote learning means many longstanding inequities may grow worse. So now is the time for principals to double down on their equity-focused instructional leadership and for principal supervisors to support them in that essential work.
In more typical times, maintaining that focus can be tough. That focus is definitely tough now as remote learning continues and too many students still do not have internet and laptops. Families are dealing with food insecurity, lack of access to childcare and other basic supports they rely on schools for.
That's what we and others are seeing: That shifting to remote learning has upped the ante on districts to ensure principals are supported to lead powerfully for excellent equitable instruction. And that they are trying to do that in the middle of a national public health crisis that, especially without federal support, continues to have dire consequences for school communities. Many of those consequences fall on the doorsteps of school districts and create incredible operational challenges. It's tempting for principal supervisors to want to step in and help with that operational work. Our research and experience are clear that principal supervisors should resist that temptation. Principal supervisors are uniquely positioned to help principals keep their focus on equitable teaching and learning, and now's not the time to let up. 
Gutiérrez: I agree, Meredith. We have to drop evaluative tones and focus on capacity building. Commit to leveraging effective adult learning practices to ensure good use of the time commitment. (Our leaders are juggling multiple commitments). Align learning what we know about effective adult learning.

We have some essential beliefs about adult learning at The Leadership Academy. We structure our work to make sure principal supervisors learn from experience and reflection, have structured freedom, engage in learning as a social process, make meaning through stories and have support through the most uncomfortable parts of learning. We model what we would like to see them do with the principals they lead.
What does this kind of hands-on support for principals look like with remote learning? 

Gutiérrez: One key skill principal supervisors have learned to do well since last March has been to build capacity remotely. Believe it or not, it is still possible to visit classrooms with the same frequency and create feedback sessions for principals about the work in real time—remote coaching is one way to do this and follows the exact same five-step process a principal supervisor uses in person.
We would argue that remote support is not different from what we did pre-COVID. It requires building and maintaining relationships, coaching principals to better their practice as culturally responsive leaders, bringing small learning communities together to learn from each other and being responsive to principals' many questions and challenges in real time. The key here is not only to problem-solve in real time but to check on the social and emotional well-being of the adults. Adults need love too! 
Some principal supervisors tell us that they can be even more supportive of principals' instructional leadership growth now that they don't have to spend so much time traveling to schools
Honig: Our ongoing research supports all of what you just shared, Nancy. When principal supervisors help principals grow as instructional leaders, they don't actually supervise in the traditional sense of the word—that is, they do not mainly evaluate or direct principals. 
Instead, they coach principals from a teaching-and-learning stance—helping principals lead their own learning and mentoring principals one-on-one and in learning communities. That's still the right work and really, it's especially the right work right now when principals need flexibility and support to navigate the challenges of ensuring equity with remote learning.
Much of that support can be provided remotely through video conferencing, for example. Some principal supervisors tell us that they can be even more supportive of principals' instructional leadership growth now that they don't have to spend so much time traveling to schools and that they can now more easily observe principals working with teachers online. 
How can other district leaders support their principals and their supervisors as they navigate the new digital world we're all living in? 

Honig: District support for principal supervisors is key to their success every day and especially today. In particular, supervisors of principal supervisors have important roles to play in principal supervisor support by reinforcing principal supervisors' focus on principals' growth as equity-focused instructional leaders, protecting principal supervisors' time for that work and mentoring them in taking a teaching-and-learning approach. In the webinar, I share examples of what that support looks like and the consequences of principal supervisors not receiving it.  Supervisors of principal supervisors can find those examples as well as tools to help principal supervisors in our book, Supervising Principals for Instructional Leadership.
District leaders can also support principals and their supervisors by taking a hard look at their central offices. The pandemic has provided a unique opportunity for all of us to see some fundamental mismatches between what central offices have traditionally done and what supporting educational equity takes. We outline some of those mismatches in a recent brief.
As districts consider how to come out of the pandemic with a much stronger anti-racist equity focus, the principal supervisor-principal relationship can provide a kind of beacon. When principal supervisors try to do the right work and focus on principals' growth as equity-focused instructional leaders, when does the rest of the central office get in the way of that work? And how can we start to bring all of what we do into greater alignment?
Gutiérrez: The way districts can best support our principal supervisors: 1) build their capacity, too; 2) check on their social and emotional well-being; and 3) make this difficult work, and progress within it, tangible.
A great principal supervisor gives school leaders the support they need to make their school a culturally responsive, standards-aligned learning environment for every student. But they need help to do this. Virtual learning during the pandemic reinforces the need to defy individualism as a path to success—all of us, regardless of role or experience in the system, need to continue learning and growing. We need to know what is expected of us.
We define a culturally responsive leader as someone who recognizes the impact of institutionalized racism and embraces their role in mitigating, disrupting and dismantling systemic oppression. Leaders like this must first work on themselves by reflecting on their biases and beliefs. Only then can they move to publicly modeling belief systems grounded in equity; being responsive to, and inclusive of, student and staff cultural identities when making decisions; confronting and changing institutional biases that marginalize students; and finally, creating systems and structures that promote equity, particularly for traditionally marginalized students.
One great tool to help leaders guide principal supervisors to assess their own progress in being more culturally responsive is The Leadership Academy's Culturally Responsive Actions for Principal Supervisors (specifically pages 51-64). The guide provides a set of tangible observable actions to do this important work, which is important to note because the work around equity is so big that it can be intangible.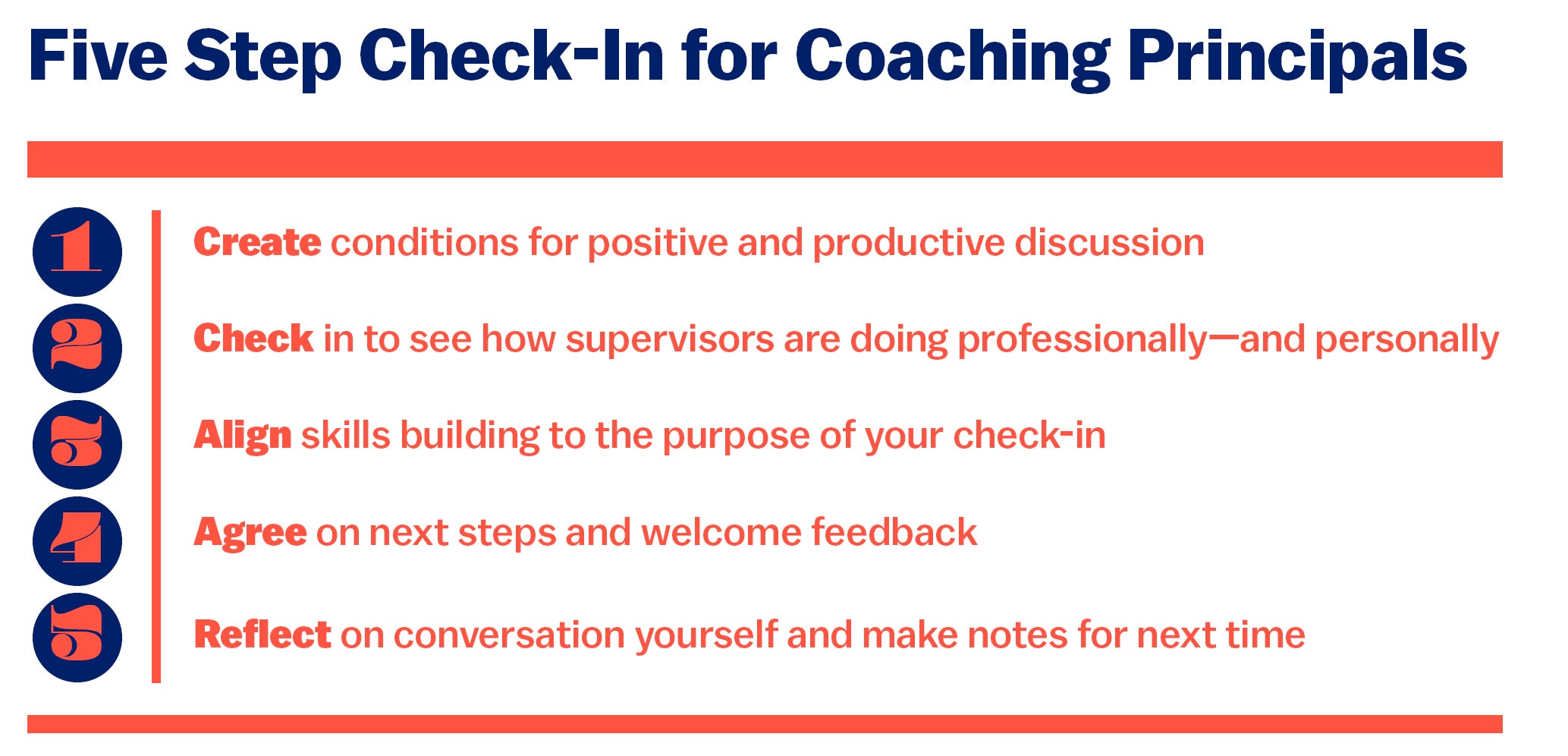 Related Topics: