After hearing results from a recent study on the successful strategic development of school leaders, Lance Clow, an Idaho state representative serving on the state's education committee, said the research confirms what his wife, a public school teacher, often told him—bring in a good principal and everything improves. "Just like a rising tide raises all boats, a good principal raises everybody up, the students and teachers," he said.
Clow was one of the state legislators and staff members attending an early morning panel at the National Conference of State Legislatures (NCSL) in Nashville, Tenn., to hear results from a recent Wallace-funded initiative on building principal pipelines. Principal pipelines, which a team of researchers from RAND and Policy Studies Associates studied in six large school districts over eight years, are a strategic approach to preparing and supporting school leaders to develop a consistent and adequate supply of effective principals.
Ty Wilde, a senior research officer at Wallace, along with NCSL's Ashley Idrees and Paul Fleming, former assistant commissioner for the Teachers and Leaders Division at the Tennessee Department of Education, detailed the good news of the study—principal pipelines were found to have a positive impact on both principal retention and academic achievement—and provided a deep-dive into how states can implement principal pipelines in their home districts.
The NCSL, which provides resources and research about key issues like school leadership to legislators, thought it was important to share the Wallace-supported research with its members, who are always looking for connections to expertise and evidence-based solutions. "The research is timely and applicable," said Idrees, apolicy specialist in NCSL's education program. "Every state throughout the nation hopes to provide invaluable school leaders to guide and support teachers and students."
The results of the principal pipeline study were so positive that they surprised Wilde, who managed the project at Wallace. She joked with the breakfast group gathered at the Nashville Music City Center that for the first time in almost 20 years of conducting or managing research, she stopped to call her mother. She was that bowled over by the findings—both the results and their magnitude. 
Researchers found that schools in pipeline districts outperformed comparison schools in other districts in both reading and math. Surprisingly, academic benefits were largest for the lowest performing schools, which often pose the biggest challenges to improvement. Principal turnover was reduced, and the cost of implementation remained low when compared with other district-wide improvement efforts, like teacher professional development. Among studies of district interventions, few had shown such strong results.
"Principal pipelines are feasible, affordable and effective," Wilde told the group. "We hope you consider ways to support principal pipelines in your state." 
The pieces of the pipeline
School leadership is a concern for many states, and 36 states passed some kind of legislation to improve school leadership in 2018. But the six districts that the study focused on—Charlotte-Mecklenburg, N.C.; Denver; Gwinnett County, Ga. (Atlanta area); Hillsborough County, Fla. (Tampa area); New York City; and Prince George's County, Md. (Washington, D.C., metro area)—all addressed reforming principal leadership using principal pipelines. The pipeline refers to four, mutually reinforcing components the districts put into place: rigorous standards that spell out what their principals need to know and do; high-quality pre-service training for aspiring principals; selective hiring and placement; and well-aligned on-the-job support and evaluation of principals, especially newcomers to the job.
In addition, pipeline districts invested in system supports, such as a maintaining a "leader-tracking" database of updated information on both current and possible future school leaders and reshaping the principal supervisor role to bolster on-the-ground support of principals.
Within this framework, flexibility is key, Wilde said, and each study district adapted the pipeline components to their own needs.
On the ground in Tennessee
When it comes to training and hiring school leaders, the state of Tennessee—though not one of the six districts in the pipeline initiative—was all in on developing a program based on the four principal pipeline criteria. In 2017, the state awarded $1 million in Principal Pipeline Partnership grants under ESSA's Title II, Part A, funds, designed to help schools and districts improve teacher and principal quality. The provision allows states to set aside 3 percent of Title II funding for state-level activities supporting principals and other school leaders. Tennessee used the money to help create comprehensive leader training programs, becoming one of the first states to do so. The grants, given to partnerships between districts and universities, businesses or nonprofits, were distributed by the newly formed Tennessee Transformational Leadership Alliance (TTLA). TTLA managed the competitive application and awarding process, giving priority to partnerships that had a four-year plan for either a new or improved model for principal improvement.
Fleming, the former assistant commissioner who led the state's leadership development initiative, said that when building Tennessee's pipeline, the state chose to lean in on four areas specifically: aligning principal preparation programs to the state's leadership principal standards with a focus on equity; building high-quality residency experiences into the programs; providing bridge support for participants after they complete a program but before they are hired as a principal; and ensuring appropriate induction for new leaders.
The TTLA helped scale the pipeline across the state through nine regional preparation programs, helping districts maintain a focus on aligning training with the state leadership standards throughout training. Tennessee also developed a statewide evaluation model for school leaders to ensure that, once they began their jobs, principals were meeting standards and using their training in such areas as providing culturally responsive and equitable practices for their students and families.
Additionally, Tennessee created a principal residency, a semester-long mentorship program in which aspiring leaders work with an on-the-job principal, not only shadowing and learning from a leader, but also getting to participate hands-on in day-to-day work. And for assistant principals, the state offers the Governor's Academy for School Leadership, which brings together a cohort of 25 aspiring leaders and focuses on training for leadership.
Fleming stressed that in order to be effective, the leader pipeline shouldn't be considered just another program or an add-on to what states are already doing. Creating a pipeline to train and support great leaders is a cohesive approach that should influence the entire way of thinking about developing future school leaders, from establishing principal standards to finding a great fit between principal and school.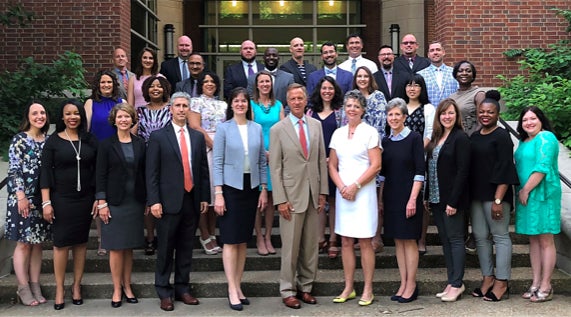 The path ahead
Even with the positive study results, Wilde and Fleming both said that building and maintaining the pipelines are not without their challenges. One of the biggest challenges, Fleming said, is the changing nature of the principal's job itself. "Principals were once responsible for books, boilers and buses, then it moved to an instructional leadership mindset," Fleming said. "Now the shift that's occurred, to reach every student and every teacher, is you have to be a shared instructional leader." That alone, he said, is a great reason for more and better training.
There's also an urgent need for a more diverse body of leaders. In Tennessee, for example, 40 percent of school children are students of color, while only 20 percent of leaders are. The state found, positively, that prospective leaders trained through the TTLA pipeline were more diverse than the state average. When adopting a principal pipeline, "The state can be very deliberate to build that into the application," Fleming said. "How are you addressing the identification, selection and retention of diverse candidates—race, gender, culture—into the program?"
Lessons for other states
The presentation and research gave some officials from states that don't currently have a principal pipeline something to think about. Sydnee Dickson, superintendent of public instruction in Utah, said that local schools and districts in her state are engaged with leadership strategies that start with their own teachers. But she's interested in creating a more integrated system. "What I liked about the research is that it shows how investing can get a sustainable return—instead of just one and done, 'hey, we did this initiative,' versus this very integrated, systemic approach to leadership."
The integrated, systematic approach to school leadership is one of the keys to the pipeline's success. Fleming said that he hoped that other states would follow Tennessee's lead and "build into the DNA of the district principal leadership that is consistent as a foundational element of success." And even though pipelines face the inevitable challenges, the researchers and Fleming agree that, after seeing the pipelines in action on the road to school improvement, the challenges are well worth it.
Related Topics: