​​​The timing was certainly not intentional, but shortly before the Omicron variant surged late last fall and sent schools across the country into another round of reliance on remote and hybrid learning, Wallace published a study titled Principal Leadership in a Virtual Environment. The report offers early considerations from a field of emerging research on how school districts can develop a large corps of principals adept at employing technology to manage their schools and keep students learning. It centers on the idea that high-quality, equitable education in the digital realm—described as "powerful learning"—emerges through the combination of three essentials: meaningful use of technology; inclusive access to it; and, notably, the leadership of principals with the know how to implement both.
The report, commissioned by Wallace, was produced by Digital Promise, a nonprofit that works with districts and schools nationwide on the effective use of technology. Recently, as the nation began what almost everyone hopes will be an emergence from the worst of COVID-19, the Wallace blog caught up with Stefani Pautz Stephenson, the publication's lead author and director of educator community partnerships at Digital Promise. Through an email exchange, she discussed how the embrace of technology for learning and school operations during the pandemic may have a lasting influence on school leadership.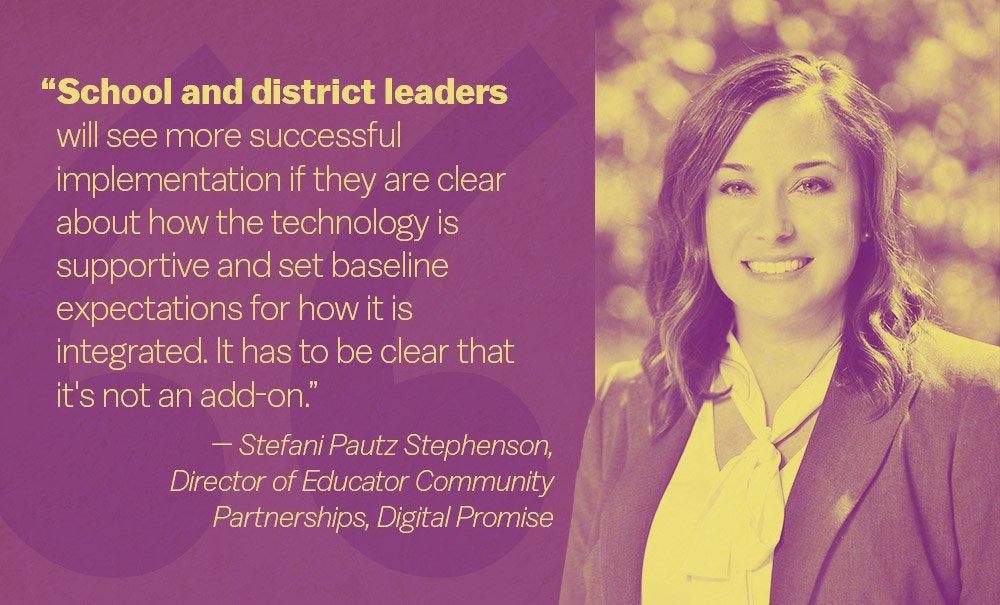 Wallace Foundation: What have school leaders learned over the last two years about leading in a virtual environment?
Stefani Pautz Stephenson: In our report, we share the emerging finding that nimbleness and flexibility are essential traits for both principals and principal supervisors who are leading in a virtual environment. This continues to hold true today. School leaders have learned how to make decisions with limited information, or information that's rapidly changing. They've learned how to be responsive with their own learning, by re-learning or upskilling their own leadership abilities. They've also learned a lot about how to lead people who aren't physically in the same space. Just as teachers have learned to teach students who aren't in the same classroom, school leaders have learned how to, for example, virtually observe a classroom and virtually model risk-taking and growth mindset.
WF: In a recent EdWeek Research Center survey, principals and other educators listed pandemic-spurred changes that they thought would stick, and at or near the top were technologies, including teaching software and platforms to monitor students' progress. What innovations do you think are here to stay, and what can principals and/or districts do to ensure they are used effectively?
SPS: The survey states that educators believe the digital learning platforms most likely to stay are those that facilitate making assignments and monitoring progress. I think that's an accurate assessment. Many school districts were already using a learning management system, at least in some capacity, prior to the pandemic. But the pandemic turned it from a nice to have to a must have. The learning management systems that integrate student learning, teacher feedback and communication with families are likely to have the greatest longevity because they support the school-to-home transparency that all stakeholders have grown accustomed to in the last two years.
To ensure technology is used effectively, school leaders must set clear expectations for use. As with any technology adoption, there will be innovators and early adopters who embrace it and want to use it to its fullest potential. There will also be those who are slower to adopt and want to know what the "must-dos" are. School and district leaders will see more successful implementation if they are clear about how the technology is supportive and set baseline expectations for how it is integrated. It has to be clear that it's not an add-on. Then, it's critical to provide ongoing, growth-oriented feedback and to make professional learning and coaching readily available.
WF: EdWeek has also reported that educators who had scurried to learn about and then use digital tools were experiencing some tech fatigue. How can principals keep the momentum for sound use of technology going?
SPS: One strategy is to help teachers manage all of the incoming information, including the amount of technology they're learning. Focus on a few critical pieces of technology and look to technologies that serve multiple functions and can be implemented across the board, like a learning management system. Aim for deep learning with those technologies, and give it the time it needs.
Attending to educators' social-emotional needs is also essential. The Council of Chief State School Officers published guidance on fostering staff wellbeing and connection, highlighting the importance of creating opportunities for staff to reconnect, heal, and feel safe and supported. School leaders can, for example, give staff an opportunity to engage in a community-connection activity prior to formal professional development on technology implementation. Creating those opportunities for connection, coupled with clear and realistic expectations for technology use, can help prevent burnout.
WF: One lesson from the pandemic seems to be that Zoom or similar conferencing technologies have allowed for more inclusive communications with families, enabling schools to maintain contact with parents and others who had previously found it hard to attend in-person meetings because of work or other circumstances. How do you think this lesson will influence principal-parent interactions once schools fully reopen?
SPS: We continue to see positive responses from school administrators to the increased communication with families. Schools have seen the positive effects of conferencing technologies in breaking down barriers to participation, and they want that level of family engagement to continue. Parents have also gained a new insight into what and how their students are learning, and they value that transparency. We've heard these things consistently, across the country. This is here to stay.
WF: The report highlights considerations for districts that want to ensure that their principals can manage schools equitably and well in a virtual environment. Among them:  revising principal standards and updating principal preparation programming to take account of virtual learning and management. Have you seen movement in these areas?
SPS: We haven't seen movement on these fronts yet, and we still believe these recommendations are mission critical if we want to develop better leadership capacity for the virtual environment. There is increased funding going into broadband, and technologies like augmented reality, virtual reality and artificial intelligence are rapidly advancing in education. We haven't prepared leaders for this. We need to take action so that school leaders can think both conceptually and practically about these topics and others like them.
Education officials can begin with advocacy. On the local level, they can start with human resources directors and offices of organizational effectiveness advocating for changes in standards for evaluation and principal preparation. At universities, they can make the case to deans and other officials who are making decisions about programming that leads to licensure. They can work with state departments of education that set certification requirements. Change starts by making people pay attention to the issues.
The pandemic drew everyone's attention to virtual learning; now it's time to draw attention to the changes needed for the future of education leadership.
Related Topics: