In 2013, Wallace awarded a competitive grant to the University of Chicago Consortium on Chicago School Research to answer a sweeping question: What, besides the three R's, does a child need to succeed in life?
The Consortium authors drew on research across a range of fields and disciplines, as well as academic theory and the insights of practitioners, but before they could come to any conclusions, they had to address an even more basic question: What is success, anyway?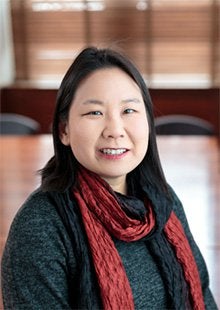 In the realms of education scholarship and philanthropy, success is often equated with being prepared for college and career, in part because socioeconomic status is an important factor in overall well-being, and in part because we have a decent idea of how to measure college and career readiness. But Wallace and the Consortium saw a more expansive definition. The report the Consortium released in 2015, Foundations for Young Adult Success: A Developmental Framework, says that, in addition to socioeconomic factors, success means "that young people can fulfill individual goals and have the agency and competencies to influence the world around them." We talked with the report's lead author, Jenny Nagaoka, about the thinking behind this definition of success.*
What were the considerations that led to the Consortium's definition of young adult success?
It's one of the fundamental questions of human existence, right? It was interesting for me because one core area of my research is the transition from high school to college, so college and career readiness is my comfort zone. Like most work in the field, the call for proposals focused on college and career, but we really shifted in our thinking when we started talking to experts. Whether they're working in a college access program or in higher ed, they see students as human beings. They care not just about whether students have a job and a degree but how they relate to their community: Are they happy? Are they leading satisfying lives, not only professionally but personally? And how can the adults in their lives support that?
The framework defines the key factors for success in young adulthood as agency, integrated identity, and competencies (meaning the ability to complete tasks and perform roles). What does it mean, in concrete terms, to have agency and be able to influence the world around you?
It can be something as small as, if you're a college student, and you can't finish your paper by next week because you have three other papers due, do you realize you can talk to your professor, explain your circumstances, and get an extension, that that's something you might actually have some control over? Or it can be as big as seeing and experiencing racial inequities and becoming engaged in a larger movement.  
Is it possible to be successful in life without fulfilling the goals you set when you're young?
Our goals and realities are bound to change over time, but part of the idea of integrated identity is making sense of who you were, who you are now and who you might become. If you wanted to be a painter when you were younger, maybe it's not what your career ended up being, but you might say, "That was an important part of who I was, and I still on a certain level think of myself as an artist, maybe I can figure out how to integrate that into my life going forward."
Now that the report is a little more than two years old, is there anything you would change about this definition of success?
There are a lot of questions I don't have a clear answer to, like, to what extent is valuing individual identity and agency specific to American culture? I'm Japanese American, and Japanese culture is more oriented toward group identity. You're still undergoing this process of figuring out your place in the world and how to navigate it, but the unit of agency may be more about your family. 
*This interview has been edited and condensed.
Related Topics: