In 2007, the San Francisco Girls Chorus received a four-year, $489,000 Wallace Excellence Award to help it attract more local classical music aficionados to its concerts. This award was one of 54 grants The Wallace Foundation offered to arts organizations in six cities to help them use data and analysis to build audiences.
Founded in 1978, the San Francisco Girls Chorus consists of both a Chorus School and a premiere performing ensemble of older girls that performs locally, nationally and on international tours. In recent years, the performing ensemble has typically put on four to five regular-season concerts in the Bay Area, plus one or two holiday concerts and a fundraising gala.
The performing ensemble has won broad recognition from the music industry (it has received accolades from ASCAP and Chorus America and has even won classical music Grammy Awards) and regularly appeared on stage with the San Francisco Opera and the San Francisco Symphony. Still, as with many choruses, SFGC has struggled to expand the audiences for its home concerts in the San Francisco Bay Area beyond its choristers' friends and families. 
When Melanie Smith became Executive Director of the San Francisco Girls Chorus (SFGC) in 2006, she was determined to expand that base. With funding from a Wallace Excellence Awards grant, she launched an effort to attract an audience of classical music patrons—people who regularly attended the symphony, the opera, chamber music performances and similar cultural events in the San Francisco Bay Area.
As reported in a 2011 case study, SFGC commissioned focus groups in 2008 that found that classical music patrons' preconceived notions about girls' choruses were keeping them away. These patrons knew little about the artistic potential of girls' choruses in general and of SFGC in particular. For them, the "girls chorus" name alone conjured up images of afterschool glee clubs, so they assumed that SFGC concerts would be amateurish, unprofessional and unable to hold their interest.
To combat these assumptions, SFGC revamped its marketing materials to convey a more professional and sophisticated image, while making sure that all aspects of the concert experience (the venue, the box office, the front-of-house staff, etc.) matched the expectations of classical music patrons.
At the time, Smith and Artistic Director Susan McMane did not see a need to make dramatic changes to SFGC's artistic repertoire. They felt that the Chorus was already performing much of the sort of sophisticated work that would appeal to classical music patrons. McMane did, however, work with SFGC's marketing team to ensure that communications highlighted programming choices featuring soloists, multiple movements and guest artists to align with the preferences expressed by classical music patrons in the focus groups.
McMane left SFGC in March 2012. The following year, the organization hired composer-vocalist Lisa Bielawa (an SFGC alumna) as artistic director and engaged Valérie Sainte-Agathe as music director and principal conductor. Bielawa and Sainte-Agathe have augmented programming to not only broaden the expressive range of the music performed—including more contemporary music that introduces new styles and touches on diverse and often mature themes—but also drawing more heavily from some of the more sophisticated and challenging classical repertoire. SFGC has used a variety of communications methods including an electronic newsletter and intensive social media outreach in its efforts to retain legacy audiences while attracting new patrons.  
Higher Percentages of Audience Members Come for the Music
SFGC conducted audience surveys to gauge the organization's success in attracting patrons beyond the friends and family of the choristers. Survey data (see Figure 1 below) shows that number has risen since a baseline measurement taken before the changes were enacted, but varies considerably from one season to another.   
"I've learned that the classical music audience is fickle," says Smith. "They've been slow to catch on to the fact that the Girls Chorus is performing music that they should come and check out." For now, SFGC seems to be appealing to this target audience on a program-by-program basis. At a 2015 concert showcasing 17th-century Italian convent music held in collaboration with a New York early-music ensemble, for example, 62 percent of the audience members were not connected to choristers. Yet that number was only 34 percent at a Romantic-music concert held a year earlier.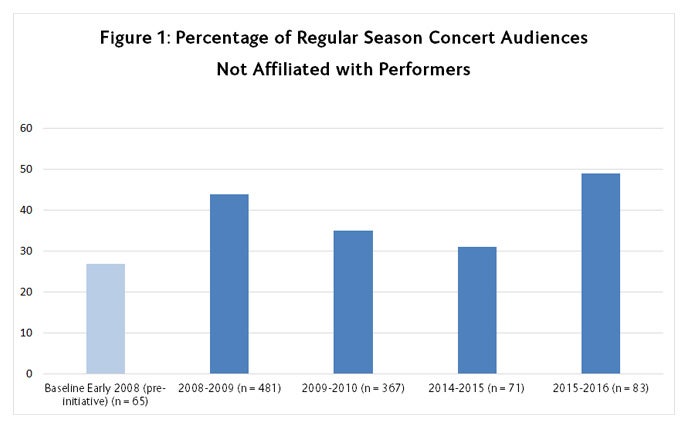 Attendance at Regular Season Concerts Stabilizes, Holiday Concert Attendance Falls
Even as more people are attending SFGC's home concerts because they are drawn to the music (i.e., not just because they are connected personally to the choristers), total audience numbers have dropped due to lower attendance at SFGC's annual holiday concerts. Attendance at regular-season concerts has held steady.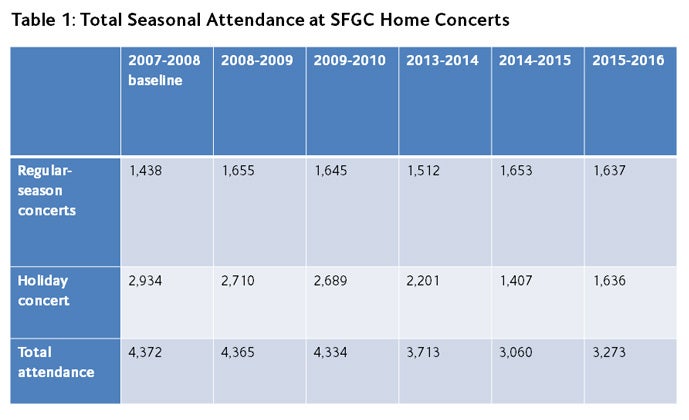 A portion of the decline in holiday concert attendance may be due to scheduling constraints, including needing to hold the performance on a weekday evening rather than on a more desirable weekend evening. SFGC has no control over availability at Davies Symphony Hall, its preferred holiday concert venue, and was forced to hold its holiday concerts early in the month of December in both 2014 and 2015. That said, the 2016-2017 holiday concert was held relatively close to Christmas Day on December 19, and still attracted only 1,818 attendees—a bump from the two previous years, but still significantly lower than the baseline and two subsequent seasons.
A Balancing Act: Trying to Attract New Audiences While Retaining Long-Term Supporters
In addition to its other programming changes, SFGC has increased the number of new works that it commissions. Whereas the Chorus previously commissioned a couple of new pieces each year, there were a total of nine pieces of music commissioned by or for SFGC in the 2015-16 season. 
Many of these new pieces by respected contemporary composers like Aaron Jay Kernis, Philip Glass, Gabriel Kahane, Theo Bleckmann, Carla Kihlstedt, Lisa Bielawa and Timo Andres received their New York or world premieres when SFGC was invited to perform in concert at Lincoln Center with the Brooklyn Youth Chorus and The Knights chamber orchestra as part of the New York Philharmonic Biennial.
The technically complex pieces that SFGC performs now may have burnished the organization's reputation among its peers and classical music patrons, but the new repertoire is not always appreciated by SFGC's legacy audience. "Some long-time patrons have complained that they don't like all the new music," says Smith, although she points out that most of the concerts in the 2015-16 season featured traditional music (Renaissance, Christmas standards, Haydn and Brahms). "I have been a little surprised and disheartened by the [fact]… that some of them do not appreciate what we're putting on stage."
What's more, some long-term supporters worried that the organization's intense focus on artistic excellence and attracting an audience of classical music patrons would detract from other important objectives, such as the personal enrichment of the girls in the performing ensemble and the students in the Chorus School.
Such concerns may also have taken a toll on the organization's board. A majority of SFGC's 22 Board members departed during the 2008-2009 calendar years, although multiple factors including normal board turnover, the recession, burnout from a recent capital campaign and a redefinition of board members' roles and responsibilities likely played a role in those departures.
Bringing Audiences on the Journey
It's not uncommon for strategic shifts at beloved institutions such as SFGC to cause concern. The concerns of legacy patrons highlight the importance of helping current audiences understand major strategic shifts. While the 2011 case study noted SFGC's efforts to revamp its brand image and communications strategy to attract a new audience of classical music patrons, the organization has since recognized the critical need for frequent, transparent communications with long-term stakeholders—friends and family of choristers, parents of students, alumnae, teachers, board members and donors.
Recognizing that these stakeholders might be puzzled by the changes SFGC has made—both on the programming side and in the way the organization presents itself—Bielawa created an electronic newsletter called "Postcards from the Chorus" soon after she joined SFGC in 2013. Distributed via email and posted on the SFGC website, Postcards seeks to help long-term stakeholders understand and embrace SFGC's evolution by providing explanations of the music, information on guest artists and collaborators, and behind-the-scenes access to rehearsals and tours.
In a recent edition of "Postcards," for example, Bielawa offered the inside scoop on how the Girls Chorus ended up performing all those premieres at Lincoln Center—taking readers through the commissioning process and rehearsals, and culminating in the reaction from one of the composers whose work the Chorus performed.
"Postcards are by far the most popular piece of e-marketing that we do," says Samantha Rowell, director of development and communications at SFGC. While SFGC's typical email blasts have a 15- to 22-percent open rate, the open rate for the Postcards emails ranges between 35 and 47 percent.
Bielawa has plenty of anecdotal evidence that the Postcards newsletter generates enthusiasm among recipients. "Many, many parents approach me outside rehearsals or during intermission at our concerts to thank me for Postcards and tell me how much they enjoy them," she relates. "This has been going on for years."
Carefully Managing Social Media Relationships
Even as SFGC has continued to emphasize its artistic excellence and professionalism through traditional marketing channels, it has recently placed more emphasis on communicating via social media.   
With support from Bloomberg Philanthropies, SFGC hired a digital communications consultant for the 2015-16 fiscal year to professionalize its social media strategy. This consultant devised and implemented a plan to split SFGC's Facebook presence into multiple pages aligned with the needs of different audience segments: a main page for the performing ensemble, plus sub-pages for the school and alumni. 
By dividing its Facebook page, SFGC hoped to represent the performing ensemble as a professional organization to potential ticket-buyers and the general public. At the same time, alumni banter or photos of young students at the Chorus School could be placed on pages designed specifically for alumni and the families of chorus members.
These changes have yielded favorable results. From September 2015 to June 2016, the main SFGC Facebook page saw a 40-percent increase in its number of page likes and greater engagement with its social media content. SFGC posted more than 200 updates to its page during that time frame, which yielded almost 500,000 impressions and more than 11,500 engagements. (By comparison, the average SFGC update in January 2015 attracted just 275 impressions.)   
Still, even in the social media realm, SFGC has bumped up against challenges. Many groups—not just concert attendees, but also alumni, students, members of the performing ensemble, friends, parents and others—want to interact through social media with the organization. Some of these constituents were confused by SFGC's decision to divide its Facebook page into multiple pages, and some parents have objected to what they see as the marginalization of the Chorus School through its relegation to a Facebook sub-page.
Even as the organization works to attract new audience members in the form of classical music patrons, SFGC values its traditional constituencies and knows that, during this time of transition, they need reassurance that SFGC still represents the same core values it always has. Hannah Gustafson, who served as communications manager from 2015 to 2016, said SFGC knew it was important to maintain a strong connection with parents and alumni through constant dialogue as the organization moved ahead with initiatives to build the performing ensemble's brand as a premier performing arts group. 
Slow Progress Toward a Long-Term Goal
After years of steady effort, Smith, Bielawa and Sainte-Agathe all agree that SFGC's 2016 performance at Lincoln Center represented the start of a new, higher-visibility phase for the Girls Chorus. In April 2017, SFGC performed at The Kennedy Center alongside The Knights as part of SHIFT: A Festival of American Orchestras. Closer to home, SFGC appeared at The Kronos Festival in San Francisco alongside the celebrated Kronos Quartet for the second year in a row. "We are getting more and more invitations from other organizations to share the stage with them," says Bielawa.
Smith believes that as SFGC's reputation reaches new heights in the classical music world, its image will eventually change in its home market. "I'm confident that our image will change eventually among San Francisco classical music audiences," says Smith. "As people learn about our successes at events like New York Philharmonic Biennial in New York, their preconceptions will change."
SFGC first started trying to attract a higher percentage of classical music patrons under the leadership of Melanie Smith back in 2008. And it's been eight years since SFGC changed the way it presented itself—its marketing materials, its choice of venues, its front-of-house operations, even the clothing the girls wear when they perform—to respond to the focus group findings.
That seems like a long time, but the experiences of arts organizations from San Diego to Baltimore to New York City suggest that new audiences can't be built overnight. In fact, the evidence suggests that it can take 10 years or more for efforts to attract a new audience to take hold.
Consider the experience of audience-diversification expert Donna Walker-Kuhne, who found new audiences for The Public Theater in New York City by building relationships with multiple groups in the community. "[Our team] only started to really experience the fruits of our labor 10 years later," reported Walker-Kuhne. "People are now coming back to the theatre on their own, spontaneously, without the groups that first brought them to our front door."  
As for the audience declines that SFGC has seen in recent years, especially at its holiday concerts, that may be a risk organizations must accept if they want to bring in different kinds of people than had attended in the past. Diane Ragsdale, arts researcher and writer, cites the example of Center Stage Theater in Baltimore, which implemented marketing and programming changes to bring in an audience that better reflected residents in its community, 67 percent of whom are African American. In the short-term, subscribers left, but eventually they were replaced by others who embraced the new direction of the theater. "Once you change the programming, be patient," advises Ragsdale. "It takes a long time (ten years!) and you need to be willing to lose some current patrons in order to gain new ones."  
SFGC has experienced some of the challenges inherent in audience diversification initiatives. When an organization makes changes to attract a new audience, some long-term supporters and audience members are likely to leave. When that happens, new supporters and audiences will not be waiting in the wings to replace them. New relationships take time to build, and the amount of time required to see results can test an organization's faith in its vision.
Meanwhile, organizations and their leadership do not stand still. Ten years after she joined SFGC, Melanie Smith departed the organization in the summer of 2016.
In its search for a new executive director, the board sought a candidate who would continue to prioritize artistic excellence and musical innovation to increase SFGC's reputation even further as a leader both within and beyond the choral music world. The board also sought a fundraiser who articulated the desire to elevate the importance of the Chorus School. In March 2017, SFGC hired its new executive director, Andrew Bradford, who had previously served as executive director of the Colorado Music Festival & Center for Musical Arts and the Illinois Philharmonic Orchestra.
Bradford is eager to have SFGC continue to expand its audience beyond the friends and family of choristers. "While the families of our choristers are some of our most cherished stakeholders, we are continuing to think about how we can build our audience and attract people who have more than one or two degrees of separation from the choristers," says Bradford. "That said, I'm not sure we want to define our target audience as just those people who attend the opera and symphony. Such a narrow focus could miss potential audience members, such as parents of young children who have an affinity for the educational component of our mission. An important part of our mission is to empower young women through music study and performance, and there may be a lot of people in our community who are not current subscribers or audience members, but would like to be involved with an organization that works toward such empowerment."
Bradford says that SFGC will continue to target people with an affinity for classical and choral music through its marketing campaigns, but he doesn't see such marketing as mutually exclusive with trying to attract potential audience members who are more interested in the educational or empowerment components to the organization's mission. "We will always make sure that the people who care most about the quality of the music know that we are uncompromising when it comes to artistic excellence," he says. "But when we are talking to people who prioritize access to arts education, we need to make sure they know that this will always be an important part of what we do."
How will this look in practice? Bradford says that SFGC will soon start a major strategic planning process where it will articulate long-term artistic goals, then develop the supporting marketing, fundraising and infrastructure strategies to realize those goals. There's no doubt in Bradford's mind that audience-building will be an important element in that strategic plan. "Like every performing arts organization, we want to share the incredible artistic and educational work we do with as many music lovers of all ages as possible," he says.
Can SFGC accomplish its audience-building goals as it broadens its focus beyond the pursuit of classical music patrons? Only time will tell. A decade seems like a long time, but when it comes to SFGC's efforts to rebrand itself and build its audience, we may still be near the beginning of the story.​​
Related Topics: