​​​​​​​​​​​​​​​A little more than 10 years ago, Chicago's Steppenwolf Theatre Company shifted its relationship with its patrons by offering them face-to-face conversation with the company's performers and artistic staff. The new approach came about after Steppenwolf used an Excellence Award from The Wallace Foundation to develop a series of online and in-person programs that supported a vision of the company as "a public square"—a forum where audience members could participate in discussions with artists and one another about the meaning of a work they experienced. 
The goal for Steppenwolf, which produces plays for more than 200,000 audience members every year, was to promote ongoing dialogue that would strengthen audience members' connection to the company—and even encourage them to attend performances more often. This three-year effort (from 2007 to 2009) helped move the company towards its objective as described in a 2011 case study.
We recently revisited Steppenwolf to see where the programs stand today and found the company not only continuing to engage audiences through lively discussions but also expanding opportunities for more of them.
2007–2009: The Public Square Launches, and Expands
Steppenwolf began creating its public square through three engagement tactics:
Post-show discussions after every performance during which members of the artistic staff posed questions to the audience (not the other way around) and everyone shared reactions as a group. Over the first three years, 52,000 audience members, or approximately 14 percent of the audience, stayed to take part in these conversations. 
A free-event series called "Explore" that introduced visitors to settings, playwright histories and themes related to Steppenwolf plays. Held in a social environment featuring immersive live entertainment, food and beverages, these events were separate from play performances—in Steppenwolf's smaller theaters and rehearsal spaces—and each hosted between 50 and 230 attendees. 
An extensive collection of printed and online content in which ensemble members and artistic staff shared conversations they were having with one another about work as it was being produced. Video and transcripts of those conversations included dialogue about Steppenwolf artists' own questions regarding meaning and artistic intent—questions that sometimes remained unresolved. Over the three-year grant period, the videos and podcasts were accessed more than 750,000 and 175,000 times, respectively.
​While the public square forums attracted large numbers of audience members, they may have also encouraged repeat attendance during the grant period. In fact, the number of nonsubscribers who purchased tickets to more than one performance per season grew by more than 61 percent from September 1, 2007, to August 31, 2009. Subscription rates, which were already above industry trends, rose as well.
Continuing the Public Square
Since that time, the theater has found many programs worth extending. Post-show discussions still follow every performance, and between 10 and 25 percent of audience members (14 percent on average) stay to take part. A 2016 survey revealed that more than 80 percent of participants say the conversations help them better appreciate the work they have seen, and what they enjoy most is the opportunity to reflect on the play immediately after seeing it.
The company also still produces a wide range of videos, including ensemble and staff reflections on artistic intent and meaning. Increasingly in recent years, the staff has also tapped audience members' post-performance reactions to a work. One tack is to approach attendees in the lobby after the show and ask them to share their observations on video. Those clips are then edited and posted on the company website or included in production-related e-mails. The reactions are not of the "I love it, go see it" variety used strictly for promotion; instead, they are more personal reflections about specific elements that an audience member finds moving.
In a similar vein, Steppenwolf has also begun asking attendees to share personal experiences at the theater through social media, which was in its infancy when the original case study was published in 2011. For example, some audience members at a recent performance of A Doll's House, Part 2 had seats at the back of the stage and they were prompted to post selfies once they took their places. That strategy of encouraging user-generated content may be one reason Steppenwolf has one of the most popular Instagram accounts among not-for-profit theater companies, with nearly 16,000 followers.  ​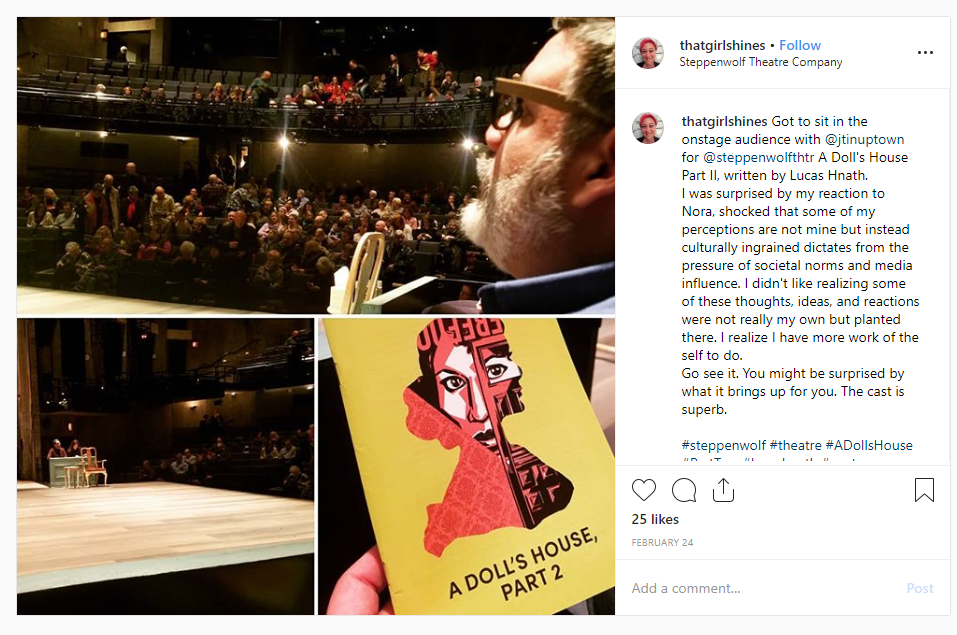 As for the Explore events, former Marketing Director John Zinn notes that a new performance series and a recently added in-house café (both described below) provide opportunities to continue dialogue in a more flexible and ongoing way. As a result, the company has​ discontinued the Explore programming.
Creating More Conversations and Opportunities to Have Them
Even as its leadership has changed, Steppenwolf's commitment to discourse remains a defining feature of how it engages audiences. In 2015, ensemble member Anna D. Shapiro took over as artistic director from David Schmitz, who moved into the role of executive director. Under both, the company expanded audience opportunities to participate in conversations at Steppenwolf that suit the lifestyles and circumstances of different groups.
The recognition that not everyone wants to have a conversation inside the theater itself was one motivating factor behind the 2016 opening of the Front Bar. A hybrid bar and coffee shop connected to the Steppenwolf lobby, it was designed as a gathering place post-performance or throughout the day, with the hope it would be a space where patrons could mingle with one another and with the artists. Marketing Director Kara Henry notes that within three years the cafe has exceeded all expectations, becoming a place where ensemble members and visiting artists mingle with patrons after a performance and during rehearsals. At other times it serves as an impromptu workspace for theater artists from communities and companies across the city, many of them performing in or drawn to programming in Steppenwolf's more intimate black-box theater.
Encouraged by the success of the Front Bar, the company plans to create other kinds of gathering spaces as it expands its campus into a new building now under construction. In that same spirit of reducing distance between audience and artists, Steppenwolf is designing the theater within the new space to be more intimate by bringing patrons closer to the stage.
Telling More Stories
The artistic staff at Steppenwolf believes its mission, first and foremost, is to tell narratives that are relevant to Chicago. It is now expanding what that duty means as well. Increasingly, the company is looking beyond audiences who are already coming to the theater and is focusing on new ones, what Henry calls "a commitment to creating more stories for more of Chicago." She adds, "Our invitation to theater patrons must be wide, with programming that reflects Chicago's diversity. As we see the composition of Chicago change, we have an obligation to have our work reflect that."
With that in mind, the company has featured a more diverse array of voices on the main stage. In 2016, it launched LookOut, amulti-genre performance series in its black-box theater, which provides an intimate cabaret-like setting. LookOut programming draws from a wide range of Chicago-based artists, and its smaller scale allows for a greater diversity of shows to be presented within any one season. On select occasions the company has featured work that complements main-stage productions in order to build on conversations happening there. To date, LookOut has featured 1,190 visiting artists, who have presented 146 shows in 422 performances to an audience of 29,005. That audience skews younger than the traditional Steppenwolf visitor: 46 percent are Millennials, according to the theater's ticketing database, and another 20 percent are Gen X.
Ultimately the company hopes that giving audience members multiple means to connect with its work and artists will create stronger, more personal bonds and include broader segments of Chicagoans. Henry sees the engagement strategy as supporting Artistic Director Shapiro's intent to "make connections that transcend ideas onstage, with experiences that seek to enhance the lives of every person who walks through our doors."
Related Topics: