​​​This post is an update of a 2016 case study of The Contemporary Jewish Museum's Wallace-funded efforts to attract larger numbers of families with young children. It is one of a series of bl​​og posts exploring how organizations' audience-development efforts fare once Wallace funds run out. It does not include a thorough analysis to determine whether the financial benefits of the efforts described are commensurate to their costs.
San Francisco's Contemporary Jewish Museum (The CJM) presents a continuously changing program of exhibitions about Jewish art and culture to a diverse audience, approximately half of which does not identify as Jewish. In 2008, it moved from a 2,500-square-foot, single-gallery exhibition space to a 63,000-square-foot facility with room for multiple exhibitions shown simultaneously. Leaders of The CJM believed the expansion opened up a promising opportunity: to attract more parents visiting with children, who could fill the space with intergenerational conversations and vitality. To that end, the museum set out to engage this audience in large numbers.
That aspiration brought The CJM into largely unfamiliar territory. The museum had not previously targeted families, who made up about 10 percent of the museum's 10,000 to 13,000 annual visitors in the two years preceding the move. What's more, more than half of family visits occurred on just two free days each year during Christmas and Purim. As described in a 2016 case study, a four-year Wallace Excellence Award helped change this picture. Between 2008 and 2011, the museum developed programs and partnerships that bring in more than 12,000, sometimes as many as 20,000, family visitors each year.
Eight years after that grant ended, the museum continues to draw large numbers of families. While The CJM no longer sees the runaway success of the early years, visitor response has been enthusiastic enough to build a stable base of family patrons, even as kids age out of the target audience each year.
The CJM Builds a Family Audience
The original family initiative included several elements:
Exhibitions of work by well-known Jewish authors and illustrators, such as Maurice Sendak (Where the Wild Things Are), and Margret and H.A. Rey (Curious George), designed to appeal both to adults and children; 
Year-round programs every Sunday, including (1) "Drop-In Artmaking" for parents and children every Sunday and (2) special family programming on the second Sunday of each month during the school year, consisting of a "Preschool Gallery Hour" in the mornings for preschoolers and their families and tours later in the day for families with older children;  
"ArtPacks," kits with activities connected to exhibitions on display and available to check out anytime, to help families explore on their own schedules; 
Free admission to all visitors under age 18; 
Several family days with special activities; 
Partnerships with local libraries, including educator-led art-making in public libraries and a "Library Day" where library-card holders were allowed free admission; and  
Partnerships with a small but diverse group of public schools, which included both classroom instruction and parent/child art-making, with 300 to 400 children and families taking part each year.
Marquee Exhibitions Bring in Large Audiences
With the opening of the new building, total attendance grew more than tenfold, with considerable variation each year (largely driven by blockbuster exhibitions featuring work by household names such Maurice Sendak and the Reys). Family attendance increased as well, and at a faster clip. As shown in the table below, families visiting with children made up about 10 percent of the visitors in the years leading to the move. In the first years of the initiative, they made up between 13 and 19 percent of general admission visits. Additional programs outside general admission brought in between 1,000 and 3,000 more family visitors each year.
The exhibitions of well-known children's book authors were the biggest draw. In the first six years in the new space, families made up a larger proportion of visitors (18 percent) when those exhibits were on view compared to times when they were not (8 percent). Family visitors also made up 15 percent of all attendees on Sundays throughout the year, with especially large numbers visiting on second Sundays.  

New Gateways into the Museum
Wallace funding ended at the close of 2011, but according to Fraidy Aber, who is Constance Wolf director of education and civic engagement, the museum remains committed to continuous innovation to build on its success. "Families have changing habits and needs," she says. So The CJM's staff continuously experiments with more efficient and effective ways to attract new families and create experiences that bring them back.
One opportunity came in 2013, when The CJM built on the popularity of an exhibition of the work of author-illustrator Ezra Jack Keats by launching what would become an annual "Ezra Jack Keats Bookmaking Competition." Children from public schools across the city design and write their own books in a competition juried by a panel of illustrators, curators, librarians and writers. The competition, now in its seventh year, is a less costly alternative to the museum's previous school-outreach program, in which CJM educators traveled to area schools to lead artmaking sessions.  Activities for the new program are now largely managed by the schools, which submit student-made books to the museum. More than 800 children from 19 public schools participate. The competition culminates with a showcase of the children's books, attended by more than 400 students and their families (visitor surveys show that 45 percent are first-timers). The museum has recently begun a separate program for Jewish schools, hoping to recreate the culminating showcase with the Jewish community.
The CJM has largely shifted away from presenting exhibitions of children's book authors and illustrators to focus more on contemporary art, though it still schedules a show every fall with content designed to appeal to both children and adults (including, for example, a 2018 exhibition exploring the work of Rube Goldberg).
Even so, these exhibits do not bring in the large numbers of family visitors attracted by those earlier exhibitions of authors with household names, and the staff is using other programming to attract new family audiences. For example, in 2016 it broadened the audience for the second-Sunday programming beyond families with preschoolers. The museum invited older children and their accompanying adults to attend and added age-appropriate art-making, storytelling, and entertainment to the day's programs. Visitor surveys in 2017 revealed that second Sundays had built an audience of repeat visitors; up to 95 percent of attendees on those days had visited previously. The strong repeat attendance signaled to the staff that it was satisfying those who came, and also had considerable potential to expand its audience.
With that potential in mind, The CJM introduced a bigger, more highly promoted event in 2018. The new "Sunday Family Artbash" offers five hours of art-making, story-telling, music, entertainment, tours and dance movement connected to the exhibitions. The museum boosted advertising and publicity for those days and offered free admission for up to two adults accompanied by a child. That larger scope has required a reduction in frequency—four times a year instead of eight—but early results suggest the strategy is delivering. Family attendance regularly reaches 400 visitors and beyond (compared to 100 to 200 for the original second-Sunday program), and surveys show that 40 percent are first-timers.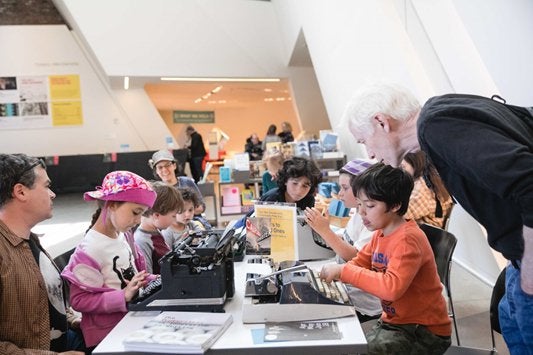 "Hands-On" Visits Create Positive Experiences 
In 2014, The CJM opened the Zim Zoom Family Room, an interactive, activity-filled space housing artist installations, artmaking facilities, a screening booth and more, accessible any time. Focus groups in 2016 showed that attendees enjoy visits more when they include hands-on activities involving parents with their children, so the museum continually refreshes the Zim Zoom Room with new installations and activities. A major section of the space is devoted to an interactive artist exhibit, which changes each year. Past installations included interactive digital projections, an infinity room of mirrors that changed as children added objects to it and a piano that added paint to a canvas whenever anyone pressed a key. Visitor research shows the typical family visits the galleries for half an hour, then goes to Zim Zoom to play for an hour and finishes with lunch in The CJM's café. Aber believes the Zim Zoom Room and regular family Sundays are cementing The CJM's reputation as a family-friendly art museum. Visitor data show the institution attracts a consistent family audience year-round, not just when certain exhibitions are on view.
The CJM's research revealing the importance of hands-on activities has also reaffirmed the museum's commitment to offering Drop-In Artmaking for families every Sunday in the education center. When that research also suggested that families appreciate having educators in the gallery near the art itself, The CJM introduced a mobile "Art PushCart" with activities suitable for galleries (i.e., without markers, glue or other wet materials used in Drop-In Artmaking). That immediacy allows educators to help families connect more directly with works on display. Artists featured in exhibitions have even donated in-progress pieces to the Art PushCart that children can explore in the galleries. Drop-In Artmaking still happens on the first and second Sundays of each month; the Art PushCart is offered in galleries on Sundays later in the month.
Space and material constraints limit Art PushCart activities, and families spend less time with that program than they do with Drop-in Artmaking. But staff observations suggest that the Art PushCart serves more people, because families don't need to make a special trip to the education center.
The museum has settled into an annual family attendance of between 10,000 and 12,000 since the Wallace-funded learning period ended. Approaching its eleventh year targeting families, the staff is starting to see signs of a generational cycle of participation. "We're now part of the lifetime of people's connections," says Aber. "We're beginning to have museumgoers who came as young adults through our teen programs now attending with their own kids, continuing on that life journey." 

Related Topics: