​​In 2011, we launched the Principal Pipeline Initiative to test whether six large districts could put in place systems aimed at developing corps of effective school principals. Independent studies of the initiative's implementation thus far have found that building principal pipelines proved both feasible and affordable in the six participating districts, and we'll soon know more about how this work impacted student achievement. But when the initiative concluded: the question of sustainability remained: Would districts maintain these pipeline components—and if so, how?
Now a Policy Studies Associates team led by researchers Leslie Anderson​ and Brenda Turnbull has interviewed key decision makers and surveyed novice principals to understand to what extent they are still carrying out the four components of the pipeline, what changes they have made and if principals' perspectives on their hiring and placement, evaluation and support are similar to previous findings. Their findings are published in a new study Sustaining a Principal Pipeline.   
We asked Anderson to elaborate on the report's findings and what they mean for the sustainability of strong principal pipelines.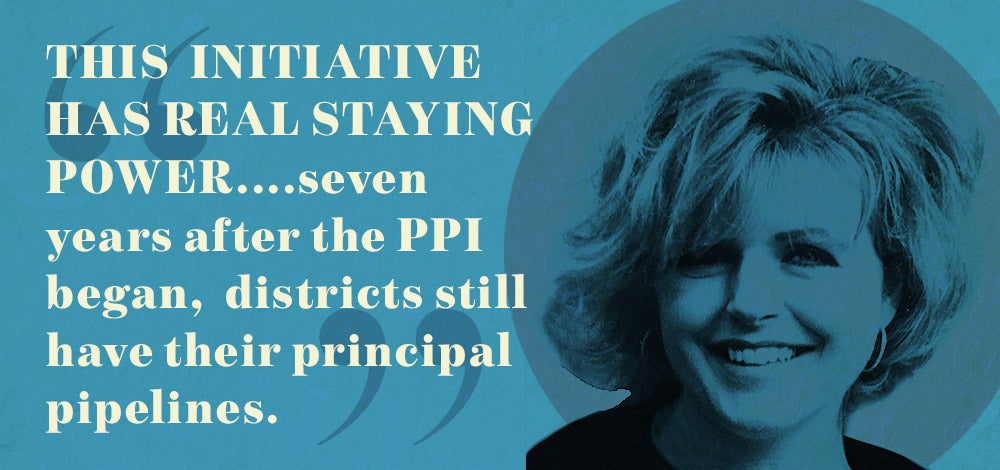 What are the most significant implications of these findings for districts that want to develop and operate principal pipelines?
It's worthwhile: There is a real payoff that districts have seen from steady investment of time and thought in developing and refining several key ingredients for leader development: standards; partnerships; succession planning; mentoring and coaching, and leader tracking systems. Moreover, principals' survey responses indicate that newly placed principals see strengths in the preparation and support they have received. As of 2018, the principal pipeline shows staying power.
It's a process not a product: One district leader described their pipeline experience as a journey rather than a destination that one reaches through shortcuts. No one should think that one district is "the district to watch" and try to copy what that district does. Instead, building a pipeline is a developmental process that district leaders must grow into.
It's affordable: There is almost no cost associated with developing leadership standards. In addition, only moderate costs are associated with creating a standardized application for principal candidates. Yet this relatively low-cost upgrade to district hiring practices can quickly strengthen the pool of candidates qualified to fill school vacancies. Indeed, seven years after starting the Principal Pipeline Initiative, district leaders no longer report struggling to find highly qualified candidates to fill vacancies; they are impressed with the skills of the principals they are hiring. Moreover, over time, districts saw fewer principal vacancies, suggesting that principal turnover had declined and new principals were better prepared.
What lessons does the study hold about how districts and universities can work together to improve preservice training for principals? What are the challenges and how can they be overcome?
PPI districts saw real benefits from investing staff time in the care and keeping of their university partners. Denver, for example, assigned a staff person to meet with district partners regularly, often monthly or more, to co-plan the programming. The result, according to another district administrator, has been that "they're producing candidates that are highly qualified [to lead our] schools." Similarly, principal supervisors in Charlotte-Mecklenburg spent years on a university partner's board and worked together closely to identify gaps between the district's leadership standards and the university's preparation program coursework. Ultimately, as one district leader explained, if done right, the benefits of the partnership are shared: "There is that mutual beneficial relationship that enables the university to have outstanding graduates and for us to have outstanding leaders." 
By 2018, district investments in their university partnerships had yielded dividends. Higher percentages of principals who had started on the job in more recent years (after March 2012) compared with those who had started earlier (before March 2012) reported that their preservice preparation emphasized competencies related to school improvement, including instructional leadership.  Moreover, more recently prepared principals reported having started on the job with higher levels of preparedness for leadership.
The report mentions that there are some areas of confusion or overlap in the various systems of support for principals that the pipeline developed.  What are these areas and how can schools and districts remedy them?
Districts strive to coordinate principal support in a way that addresses principal needs but mitigates the risk of delivering conflicting messages. While principal supervisors, mentors and coaches are all necessary principal support, they need to be managed appropriately to avoid contradictory or confusing advice. A Denver principal supervisor described a novice principal getting four sets of guidance from four different people on a daily basis, for example. 
Creating more lines of communication between support streams is a good first step toward mitigating conflicting messaging.  Because people are busy, it's often hard to know which support provider is helping principals develop which capacity or competency. A leader in Gwinnett County maintained that it was incumbent upon district leaders and support providers to work together to provide a coherent support structure that ultimately helps principals succeed. She suggested that districts should start by calibrating support providers in defining or diagnosing the needs of the school. And she cautioned that coordination does not mean standardization and that the support delivered to principals should vary in response to school contexts and needs.
Finally, there is a danger of overwhelming principals with support.  First-year principals often feel as if they are "drinking from a firehose," as an administrator put it, and they cannot absorb all of the support they receive. Prince George's County has tried to address this problem by creating what it calls "a central office school support network" to coordinate all of the offices that impact the building so that the principal "didn't have to have 13 different meetings with 13 different offices at the beginning of the school year."
With the emergence of the principal supervisor role as a key element of the pipeline, how can districts ensure that supervisors are able to focus mainly on principal support and development?
Districts used a variety of strategies to ensure that supervisors could focus on principal support. Several hired more supervisors, reducing their span of control and thereby increasing the time supervisors could devote to developing principals' instructional leadership skills. One district removed any responsibility for operations management from principal supervisors' span of control by creating a department of academic support and another department for school operations.
Another, less costly approach one district took was organizing supervisors into different buckets of responsibility. Leaders in this district recognized that their supervisors reflected an assortment of competencies, some uniquely qualified to guide principals' growth in instructional leadership, and some not. They opted to divide the work of their eight supervisors so that five would be instructionally focused and three would be operationally focused. 
What was surprising to you about these findings?
That this initiative has real staying power. That is, seven years after the PPI began, districts still have their principal pipelines. Districts still use standards to shape their principal preparation, hiring, evaluation and support systems; hiring managers have well-stocked pools of vetted principal candidates as well as individual-level data for use in their succession planning. Mentors, coaches and supervisors continue to build principals' skills on the job. All six districts continue working on strengthening and expanding the pipeline components in ways that further manage and support the career progressions of principals. For example, they continue to strengthen the principal supervisors' skills in supporting principals. They also work on strengthening principals' capacity to identify and develop the leadership talents of aspiring leaders, recognizing that sitting principals play a key role as mentors.
In summary, as we mention in the sustainability report, they are trying to build an ecosystem for talent development in which principals and principal supervisors regularly seek to identify and nurture the very best and brightest future leaders. 
---
Leslie Anderson is a Managing Director at Policy Studies Associates (PSA). To read her full bio click here​.
Related Topics: