Research Suggests Five Steps to Getting Well-Trained Principals for All Schools
Research Suggests Five Steps to Getting Well-Trained Principals for All Schools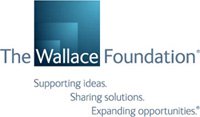 FOR IMMEDIATE RELEASE
Contact: 
Jessica Schwartz 
The Wallace Foundation 
212-251-9782
Angie Cannon 
The Hatcher Group 
301-656-0348
New Wallace Foundation "Perspective" is Second in Series about School Leadership
NEW YORK (June 26, 2012) – Strengthening university-based principal-preparation programs and boosting on-the-job training for new principals could help school districts develop more effective principals, according to a report released today by The Wallace Foundation.
The Making of the Principal: Five Key Lessons in Leadership Training distills insights from school leadership projects and major research studies supported by the foundation since 2000. The report notes that although notable progress has been made in revamping how principals are prepared for their jobs, much more remains to be done to improve university-based principal training programs – long criticized as weak and unselective – and to ensure that novice principals receive effective professional development.
"If we want to meet our goals for improving our public schools, we must strengthen the training programs that prepare our principals to lead," said Jody Spiro, director of education leadership at Wallace. "Research shows that effective principals are essential to turning around troubled schools, and among in-school factors are second only to teaching in their influence on student achievement. Investing in their preparation and support is a cost-effective school improvement strategy."
The report notes that over the past decade, more school districts have begun providing better mentoring and professional development to new principals. Districts have also pushed to raise the quality of "pre-service" principal training, while many states have tightened accreditation rules and adopted new standards to push universities and other training providers to improve.
Yet, the report notes that training offered at most of the 500-plus, university-based programs, where the majority of principals are trained, has failed to keep pace with the evolving role of principals as instructional leaders, that is, managers who focus on improving teaching and learning, not just administrative matters. Critics cite flaws including: nonselective admissions, curricula that fail to take into account the needs of districts and diverse student bodies; weak connections between theory and practice; faculty members with little or no experience as school leaders; and poorly designed internships.
The publication is the latest in a series of Wallace Perspectives, occasional reports that mine foundation-supported projects and research for insights to help solve difficult problems in education. The Making of the Principal draws on lessons from Wallace-supported scholarship by leading researchers (at institutions including the RAND Corporation, Stanford University, Vanderbilt University, the University of Washington, the University of Minnesota and the University of Toronto), as well as Wallace-funded projects in 24 states and numerous districts. The new Perspective concludes that five lessons could guide many more school districts as they devise ways to put strong principals in every school:
A more selective process for choosing candidates for training is the essen¬tial first step. Exemplary programs rigorously review candidates' skills, experience and leadership dispositions. The best programs actively involve school districts in identifying, recruiting and screening candidates with the potential and desire to lead schools.
Aspiring principals need pre-service training that prepares them to lead improved instruction and school change, not just manage buildings. Exemplary programs offer curricula focused on improving instruction, coursework that applies theory to practice and well-designed internships.
Districts can and should do more to exercise their consumer power to raise the quality of principal training so that graduates better meet their needs. Training programs have a powerful incentive to improve when a district says it will only hire graduates of programs that meet its standards and needs.
States could make better use of their power to influence the quality of leadership training through standard-setting, program accreditation, principal certification and financial support for highly qualified candidates. In 2010, at least 23 states enacted 42 laws to support school leader initiatives, but states need to do more to build a pipeline of qualified school leaders.
New principals need high-quality mentoring and professional development tailored to individual and district needs. Since 2000, more than half of the states have enacted mentoring requirements, but it's often merely a "buddy system," with inadequately trained mentors.
A Perspective released earlier this year examined the five practices of highly effective principals. Subsequent reports in the Wallace series will focus on:
The district role in building a corps of effective principals that is big enough to improve teaching and learning district-wide.
The state role in improving school leadership.
This report and other materials can be downloaded for free from The Wallace Foundation's Knowledge Center at www.wallacefoundation.org
####
The Wallace Foundation is an independent, national foundation dedicated to supporting and sharing effective ideas and practices that expand learning and enrichment opportunities for children. The foundation maintains an online library of lessons at www.wallacefoundation.org about what it has learned, including knowledge from its current efforts aimed at: strengthening educational leadership to improve student achievement; helping disadvantaged students gain more time for learning through summer learning and an extended school day and year; enhancing out-of-school time opportunities; and building appreciation and demand for the arts.