New Report Profiles School Districts' Early Efforts to Develop Effective Principals
New Study Details Early District Efforts to Cultivate Effective Principals
Study is the first from an evaluation of The Wallace Foundation's $75-million Principal Pipeline Initiative
​

​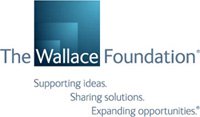 FOR IMMEDIATE RELEASE
Contact: 
Brenda Turnbull 
Policy Studies Associates 
202-939-5324
Jessica Schwartz
The Wallace Foundation 
212-251-9711
WASHINGTON, D.C., (July 9, 2013) Over the last half dozen years, principals have been increasingly recognized as a linchpin for successful school improvement – yet less is known about how districts can develop a pipeline of highly-qualified candidates.
A new independent evaluation report details how six urban school districts are beginning to build larger pools of strong principal candidates at a time when many policymakers view the school leader's job as key to successful school reform, but many potential principals view it as overly demanding and insecure.
The report, Building a Stronger Principalship: Six Districts Begin the Principal Pipeline Initiative, is the first of several reports that are part of a multi-year evaluation conducted by Policy Studies Associates and the RAND Corporation. Future reports will examine how different aspects of the districts' pipelines for new principals are implemented, and the final report in the series will measure the impact of the improved pipelines on student achievement.
This first report finds that the districts share several common purposes:
District leaders want a larger pool of strong principal candidates due to a decline in the number or quality of applicants.
District leaders want to conduct evaluations that can hold principals accountable. And yet, in several districts, accountability has resulted in principal dismissals, which have increased demand for new principals while making the job seem less secure to applicants.
To find new qualified applicants, district leaders want to start as early as possible in educators' careers, reaching into the teaching force to cultivate leadership talent.
All districts are developing standards for the principalship and aligning training, hiring, evaluation, and professional development to them. One district called these standards "the driving force" for building the pipeline.
The six districts, which serve thousands of low-income students, are Charlotte-Mecklenburg Schools, N.C.; Denver Public Schools; Gwinnett County Public Schools, Ga. (near Atlanta); Hillsborough County Public Schools, Fla. (Tampa); New York City Department of Education; and Prince George's County Public Schools, Md. (near Washington, D.C.).
"These school districts, like others nationwide, face a problem: They need strong principals, but it's a demanding job that, in some places, offers little job security. They want to bring in new principals who are ready to meet those challenges," said lead author Brenda Turnbull of Policy Studies Associates. "This report details how six large urban districts are launching efforts to find outstanding candidates, train them well, and then support them on the job. Other districts can learn from what they are doing."
"This first evaluation can provide school districts, especially urban districts, with useful descriptive lessons about key ways to address current challenges in preparing, supporting and retaining effective instructional leaders," said Edward Pauly, Wallace's director of research and evaluation. "Each year we will learn more about how these districts improve their pipelines, including progress on principal training, mentoring, and evaluation practices. Ultimately, this research will show us whether and how building a stronger principal pipeline improves student achievement. Stay tuned."
The six districts are participating in The Wallace Foundation's $75-million Principal Pipeline Initiative, an ambitious, multi-year effort supporting the districts and training partners as they strengthen and align the four key parts of a pipeline:
Leader standards: The six districts are clarifying standards for principals and translating them into required job skills. District officials are working to align principal preparation, hiring, evaluation, and support to these standards. This is a change from the past when each of these functions evolved separately, and they didn't always reinforce each other.
Pre-service training: Participating districts are creating or strengthening training partnerships with one or more universities, and universities are aligning their curricula with districts' leadership standards. For Charlotte-Mecklenburg, for example, the Leaders for Tomorrow program at Winthrop University incorporates the district's leadership standards into its admissions procedures, curriculum and evaluation. This collaboration is significant because all too often districts feel that local universities' graduates don't meet district hiring needs. Yet some pre-service university training programs remain relatively unselective, meaning that people who will never be hired are earning credentials.
Selective hiring procedures: Pipeline districts are now basing their hiring criteria on the leader standards and, overall, making hiring procedures for principals more systematic and selective. They're gathering data about candidates, organizing the data into usable form, and weighing how to consider candidates' intangible qualities. In Denver, for example, candidates must create a professional development plan for a school. And in Prince George's County, applicants now analyze videos and different scenarios, and personal recommendations are less likely to determine whether someone is hired. Unsuccessful candidates who will never be hired as principals receive information about their identified weaknesses so they can address deficiencies.
On-the-job evaluation and support for principals: While principal evaluations are still a relatively new area in education reform, all six districts are working to align evaluation and support for novice principals. Each district's standards and competencies for principals will provide a common basis for evaluation criteria and will help determine the support principals receive. Districts are developing evaluations that identify gaps in skill, knowledge, or behavior that principal supervisors and coaches can help principals address on the job.
"The importance of principals to lead education reform, such as the Common Core State Standards and teacher evaluation, has been documented in research and demonstrated in these six districts," said Jody Spiro, Wallace's director of education leadership. "There is much that they can and should do to support principals, including setting high performance standards, ensuring that leaders are well prepared and supported. This is challenging work, but we are encouraged at the progress being made by these districts and look forward to seeing the future results."
Over the next several years, Policy Studies Associates and RAND will release five more reports about the districts' collaboration with training providers, evidence of successes and challenges of district implementation, the use of performance evaluation, the implementation of new pipeline practices, and, ultimately, a report in 2018 about the effects of improved pipelines on student achievement.
To read the new report, click here.
####
Policy Studies Associates, Inc. (PSA) conducts research in education and youth development. Founded in 1982, PSA believes in the importance of using accurate information to guide decision making. The studies PSA conducts for its clients span evaluation, policy analysis, and other forms of systematic inquiry. PSA's studies have involved evaluation, research, and policy analysis in school improvement, youth development, out-of-school-time programs, professional development, community involvement, and technical assistance in the scale-up of innovative programs.
The Wallace Foundation is an independent, national foundation dedicated to improving the lives of disadvantaged children in American cities by providing more opportunities to learn, both in and out of school. The Foundation maintains an online library of lessons at www.wallacefoundation.org about what it has learned, including knowledge from its current efforts aimed at improving: the quality of the principals who lead our schools; efforts to expand the effective use of additional learning time during the summer and the regular school day or year; and the access to and equitable distribution of quality arts learning and after-school programs.