New Guides for School Districts to Better Support Principals as Instructional Leaders
Three New Tools Can Help Districts Strengthen School Leadership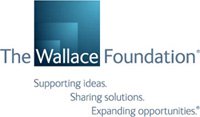 Contact: 
Steve Goll 
206.221.6881 
edlead@uw.edu
Jessica Schwartz 
212.251.9711 
jschwartz@wallacefoundation.org
Wallace Also Awards Grant to Develop Evaluation for Principal Supervisors
NEW YORK and SEATTLE (Nov. 19, 2013) — The University of Washington Center for Educational Leadership (CEL) today released a set of three tools designed for school district central office leaders, especially principal supervisors, to help principals improve teaching and learning in every school across the district.
Commissioned by The Wallace Foundation, the Central Office Transformation Toolkit was developed by the Center for Educational Leadership in partnership with Dr. Meredith I. Honig, an associate professor at the University of Washington College of Education. The tools – Readiness Assessment, Creating Your Theory of Action, and Principal Instructional Leadership – are based on Dr. Honig's research and CEL's experience helping districts across the country improve how their central office leaders support better instructional leadership. A free copy of the toolkit is available for downloading from the CEL website.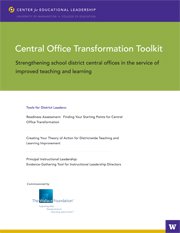 "The school district profoundly shapes the success of its principals: how they are trained, hired, mentored, evaluated and developed on the job," said Jody Spiro, director of education leadership at The Wallace Foundation. "Yet, many educators and policymakers have overlooked the unique role districts can play. These new CEL tools will go a long way toward helping districts give principals the support they need to lead instructional improvement in their schools."
Max Silverman, CEL associate director, added that the tools will also help school districts "transform their central offices, turning them into true teaching and learning support systems. Our experience partnering with school districts tells us that districts need these tools to better develop leaders, particularly principal supervisors, an ever-evolving position. These tools will help district leaders take necessary actions from assessing readiness to implementing real changes in their central offices."
Toolkit Includes Three Guides
The following three guides in the Central Office Transformation Toolkit can be used in sequence or as appropriate to where a school district is in the transformation process:
Readiness Assessment: Finding Your Starting Points for Central Office Transformation 

This guide helps districts identify productive starting places for central office transformation. It guides central office staff through a series of questions to generate information to use in discussions with key district leaders and helps districts identify the first phases of the transformation process based on such considerations as ease or urgency.
Creating Your Theory of Action for Districtwide Teaching and Learning Improvement 

This tool helps districts ensure that their central office transformation plan is grounded in a clear analysis of what is working and not working for students. It helps identify how strengths and weaknesses in classroom teaching, principal instructional leadership, and central office practice, structures, and systems are contributing to students' current performance. Using that analysis, districts will be able to generate a theory of action, or an evidence-based story, that explains the specific changes they intend to make.
Principal Instructional Leadership: Evidence-Gathering Tool for Instructional Leadership Directors 

This tool helps instructional leadership directors (or principal supervisors) continuously assess principals' instructional leadership, develop a clear sense of what counts as evidence for instructional leadership, and create systems for collecting and organizing evidence of principals' instructional leadership. Using this evidence can be the foundation for principal supervisors' work with individual principals and groups of principals.
A New Grant for Evaluations
In addition, The Wallace Foundation has awarded a grant to the University of Washington's District Leadership Design Lab (DL2), led by Honig, to create a performance management system to assess the performance of principal supervisors.
The new performance management system, expected for completion in 2014, will assess the performance of principal supervisors and will generate data for districts to use to improve principal supervisors' practice. The 360-performance management system will include feedback from principals, the supervisor of the principal supervisors, and peer principal supervisors, as well as self-reflections from principal supervisors themselves. The District Leadership Design Lab will draw upon advice from the Center for Education Leadership and other experts.
Dr. Honig's research shows that improvements in teaching and learning across districts require fundamental changes in how central offices support schools – changes that are more profound than just revising organizational charts, adding or eliminating units or improving the efficiency of long-standing operations. "Instead, central office transformation demands that leaders take a deep look at the current work of each and every central office staff person and ask: Does this matter to improving teaching and learning districtwide?" Dr. Honig asked.
A Recent Report on Principal Supervisors
The average tenure of principal supervisors in urban districts across the country is fairly short: about three years, according to a recent Wallace-commissioned report by the Council of the Great City Schools (CGCS). The report, Rethinking Leadership: The Changing Role of Principal Supervisors, goes on to suggest that this position has been adapted or reinvented recently in many districts, or that turnover in the positions has been extensive.
In addition, the CGCS study found that a large majority of principal supervisors were former principals, but that few had experience as either a human resources, operations or central office instructional administrator.
"There is a growing recognition that principals' supervisors are vital to helping principals succeed as instructional leaders," said Dr. Spiro. "The issue is: How can these supervisors be focused more on coaching and professional learning and less on compliance with regulations."
###
The nonprofit University of Washington Center for Educational Leadership (CEL) is dedicated to eliminating the achievement gap that continues to divide our nation's children along the lines of race, class, language and disability. CEL's nationally recognized faculty, staff and consultants come from top research institutes, state education offices, school and district administrator offices, and K-12 and college classrooms. CEL's experts work at every level of a school district, from coaching in the classroom to supporting instructional leadership in the central office. The focus of CEL's research-based, field-tested methods is clear: To improve dramatically the quality of teaching and learning for every child, in every school and in every classroom.
The Wallace Foundation is an independent, national foundation dedicated to supporting and sharing effective ideas and practices that expand learning and enrichment opportunities for children. The Foundation maintains an online library of lessons at www.wallacefoundation.org about what it has learned, including knowledge from its current efforts aimed at: strengthening educational leadership to improve student achievement; helping disadvantaged students gain more time for learning through summer learning and through the effective use of additional learning time during the school day and year; enhancing out-of-school time opportunities; and building appreciation and demand for the arts.