Joseph W. Polisi, President of The Juilliard School, Joins The Wallace Foundation Board
IMMEDIATE RELEASE

Contact: Lucas Held
Director of Communications
The Wallace Foundation
212-251-9782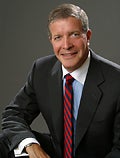 New York, N.Y., Jan. 6, 2011 – The Wallace Foundation has announced that Joseph W. Polisi, president of The Juilliard School since 1984, has been elected to the Foundation's Board of Directors.
Dr. Polisi, the sixth president of Juilliard, one of the nation's premier professional schools of the performing arts, has deep and broad experience as a college administrator, as a writer in the fields of music, public policy and the arts, and as an accomplished bassoonist.
"Joseph Polisi has spent his career as a leader in arts education. His experience and insights will be invaluable to The Wallace Foundation as we shape our future investments in education, out-of-school time and the arts," said Kevin W. Kennedy, chair of Wallace's Board of Directors.
Throughout his 27-year tenure at Juilliard, Dr. Polisi has emphasized the need for performing arts students to become broadly acquainted with the humanities and the liberal arts, in the belief that the arts, as he has put it, represent one of a number of ways "to explore the human experience and to produce a more discerning point of view about one's world." He has championed the need for students to graduate not only with technical and artistic skills, but with the ability to participate in civic discussions about the role of the arts in society and the value of arts education. And he has put these beliefs into practice by establishing partnerships with other leading educational and cultural institutions and investing in community outreach especially to underserved students.
Dr. Polisi is the author of two books, The Artist as Citizen, a 2005 collection of speeches on topics ranging from cultural policy to the role of the artist in society, and a 2008 biography of composer William Schuman, titled American Muse: The Life and Times of William Schuman. Both were published by Amadeus Press. He holds three graduate degrees in music from Yale University, including a Doctor of Musical Arts as well as a Master of Musical Arts and Master of Music; a Master of Arts  in International Relations from Tufts University's  Fletcher School of Law and Diplomacy, and a Bachelor of Arts in Political Science from the University of Connecticut.
"I am greatly honored to become a member of The Wallace Foundation board. The work that the Foundation has realized over the years has significantly improved the quality of education in all disciplines, especially the arts. I look forward to participating in the Foundation's activities in the time ahead."
M. Christine DeVita, Wallace's president, said: "Joseph Polisi's recognition of the need for us to do better in introducing more Americans to the arts – and his ideas about how we can make progress – will help Wallace be effective across all of our areas as we work to expand learning and enrichment opportunities for children, especially those most in need, both in and out of school."
The Wallace Foundation is an independent, national foundation dedicated to supporting and sharing effective ideas and practices that expand learning and enrichment opportunities for children. The Foundation maintains an online library of lessons at www.wallacefoundation.org about what it has learned, including knowledge from its current efforts aimed at: strengthening educational leadership to improve student achievement; helping disadvantaged students gain more time for learning through summer learning and an extended school day and year; enhancing out-of-school time opportunities; and building and appreciation and demand for the arts.
###