Experts Talk School Leadership: See the Live Video Stream from Public T.V.
Experts Talk School Leadership: See the Live Video Stream from Public T.V.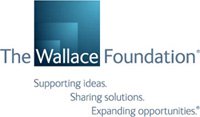 FOR IMMEDIATE RELEASE
Contact:
Jessica Schwartz
The Wallace Foundation
212-251-9711
NEW YORK, N.Y. (November 15, 2012) –  Watch a live stream of "Critical Conversations: A School Leadership Initiative" today 4:00 p.m. EST at https://new.livestream.com/Thirteen/CCSL, an event highlighting New York City's effort to develop a "principal pipeline," or sufficient number of highly effective school principals to meet the needs of the city's schools and students.
The conversation is hosted by WNET, New York City's public media provider, and is sponsored by The Wallace Foundation.
Held at the High School of Art and Design in midtown Manhattan, the event will feature a panel of education leaders discussing what it takes to get an exceptional principal to lead every school – and to make a difference in the lives of all students. The conversation will focus on components of The Wallace Foundation's $75-million principal pipeline initiative, which is helping six urban school districts, including New York City, build strong principal pipelines and determine whether this improves student achievement across the district. Elements of the pipeline include: a job description for principals (leadership standards), high-quality training, selective hiring practices, and on-the-job support of novice principals, including mentoring and evaluation.
Moderator is Beth Fertig, education reporter and editor for WNYC Radio and www.schoolbook.org.
Panelists include:
Dennis M. Walcott, Chancellor, New York City Department of Education
Will Miller, President, The Wallace Foundation
Shael Polakow-Suransky, Chief Academic Officer, New York City Department of Education
Kim Marshall, education researcher
Robert Bender, Principal, P.S. 11 William T. Harris
The panel discussion is one of three such events hosted by WNET and sister public television stations. The other two will be held in Prince George's County, Md., and Denver, two other districts in Wallace's principal pipeline project. WNET will videotape the events and include segments of it in a new Wallace Foundation School Leadership Collection, an online compendium of resources about boosting leadership in public schools. The collection will reside on PBS LearningMedia, a library of free K-12 media resources available to educators throughout the United States and beyond.
####
The Wallace Foundation is an independent, national foundation dedicated to supporting and sharing effective ideas and practices that expand learning and enrichment opportunities for children. The Foundation maintains an online library of lessons at www.wallacefoundation.org about what it has learned, including knowledge from its current efforts aimed at: strengthening educational leadership to improve student achievement; helping disadvantaged students gain more time for learning through summer learning and an extended school day and year; enhancing out-of-school time opportunities; and building appreciation and demand for the arts.