Decade of Research Points to Five Must-Haves for Effective Principals
Decade of Research Points to Five Must-Haves for Effective Principals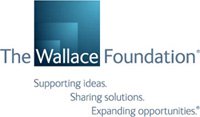 NEWS RELEASE 
For Immediate Release
Contacts: Jessica Schwartz 
The Wallace Foundation 
(212) 251-9711 
jschwartz@wallacefoundation.org
Kari Hudnell 
CommunicationWorks 
(202) 955-9450 ext. 318 
khudnell@communicationworks.com
Decade of Research Points to Five Must-Haves for Effective Principals 
New Wallace Foundation "Perspective" is first of a series looking at school leadership and how it is best developed and supported
NEW YORK - January 5, 2012 – School leadership doesn't just happen. Effective principals employ five key practices, according to The School Principal as Leader: Guiding Schools to Better Teaching and Learning, a Wallace Foundation Perspective, released today, that distills lessons from school leadership projects and major research studies supported by the foundation since 2000.
"After more than a decade of investment in school leadership, we can confirm the empirical link between school leadership and improved student achievement. We hope that this Wallace Perspective can contribute a new and deeper understanding of effective school leadership and how it operates," said Will Miller, president of The Wallace Foundation. "No longer seen as glorified managers of buildings and bus schedules, today's principals must be their schools' chief improvement officers, strengthening instruction, building a culture of high achievement, and marshaling the skills of other educators to boost student performance."
Perspectives are occasional reports that mine Wallace-supported projects and research for insights that could help solve difficult problems, including the inadequacy of education in many urban public schools. The School Principal as Leader gleans lessons from Wallace-supported scholarship by leading researchers (at institutions including the RAND Corporation, Stanford, Vanderbilt, the University of Washington, and the Universities of Minnesota and Toronto) as well as Wallace-funded projects in 24 states and numerous districts. It concludes that five practices are central to effective principal leadership:
Shaping a vision of academic success for all students: The literature evinces a broad consensus that setting clear, rigorous learning expectations for all students is crucial to closing the achievement gap between advantaged and less-advantaged students, and for raising achievement overall.
Creating a climate hospitable to education: For students to reach learning goals, and for teachers to be able to help them, principals must establish such basics as safety and orderliness, but these alone are not sufficient to create a positive instructional climate. Research indicates that effective principals also focus on building a sense of school community that is upbeat, welcoming, solution-oriented, and professional.
Cultivating leadership in others: Consistent with scholarship on leadership in general, effective school principals empower those around them, including influential teachers and staff teams. Hallmarks of this practice, which correlates with better student performance on math and reading tests, include consistent and well-defined student learning expectations, and frequent discussion and pedagogical critiques among teachers.
Improving instruction: Research indicates that, next to teaching itself, principal leadership is the most important in-school factor in driving student achievement, but the Perspective also shows that effective principals work to get the most out of the teaching staff. They do this by promoting high expectations, attacking teacher isolation and instituting research-based strategies to improve learning through professional development.
Managing people, data and processes to foster school improvement: Researchers found that effective leaders nurtured and supported their staff members, but were also not averse to "aggressively weeding out individuals who did not show the capacity to grow," in the words of one study. The Perspective also notes that, despite the rule of thumb that a principal should be in place five to seven years in order to have a beneficial impact on a school, the average length of a principal's stay in 80 schools examined by one study team was 3.6 years. This high turnover was associated with lower student performance on reading and math achievement tests.
The Perspective singles out the need for support from district and state officials if school-level leadership is to be successful. It also notes that school leaders cannot transform failing schools by themselves, but that without effective principals, there is little likelihood that these schools can be turned around.
Subsequent reports in the Wallace series will focus on:
The district role in building what the Wallace calls the "principal pipeline," consisting of four interlocking practices: defining the job of the principal and assistant principal; providing high-quality training for aspiring leaders; hiring selectively; and evaluating principals and giving them the on-the-job support they need.
The state role in improving school leadership.
An update of a 2007 report on principal training, based on new research.
This report and other Wallace materials are free and can be downloaded from The Wallace Foundation's Knowledge Center at www.wallacefoundation.org.
# # #
Based in New York City, The Wallace Foundation is a national philanthropy that seeks to improve education and enrichment for disadvantaged children. The foundation has an unusual approach: funding projects to test innovative ideas for solving important social problems, conducting research to find out what works and what doesn't and to fill key knowledge gaps – and then communicating the results to help others. www.wallacefoundation.org