Big Thought and The Wallace Foundation launch web site to help schools and community-based organizations improve the quality of arts education
Just Launched: Web Site to Help Boost the Quality of Arts Education for Kids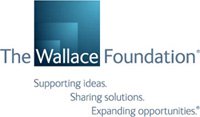 Media Contacts
Big Thought: Susan Underwood
469-621-8952 or susan.underwood@bigthought.org
The Wallace Foundation: Lucas Held
212-251-9782 or lheld@wallacefoundation.org
FOR IMMEDIATE RELEASE
Site offers step-by-step guide to improvement, and a forum to share best-practices for improving arts education and creative learning in and out of the classroom
DALLAS, Texas (Feb. 22, 2012) – Noting growing recognition that quality is crucial to having arts education pay off for children, The Wallace Foundation and Big Thought have launched a new Web site "Creating Quality" at creatingquality.org that provides information, tools and other resources to evaluate and improve the quality of arts education and creative learning in schools, afterschool programs and summer learning opportunities.
Based on a quality improvement process developed and pioneered by Big Thought in Dallas, one of the nation's leading institutions working to deliver arts education to children, the Creating Quality website houses resources to: engage stakeholders, define quality teaching and learning, assess the quality of programming and improve education for all children. Educators, artists, civic and community leaders, and policymakers can use the site to access. Resources include:
tools including research, templates and articles,
case studies featuring the work of schools, districts and nonprofits in Dallas and Boston, and
videos featuring commentary on the evaluation process from local and national leaders in arts education.
"Big Thought is thrilled to partner with The Wallace Foundation to improve children's education, and conduct research to evaluate and improve programming," said Gigi Antoni, President & CEO of Big Thought. "We believe that it is our responsibility to help support and develop a national dialogue which can be used to share ideas and resources that have proven to be effective in supporting the education of our children."
The site provides a one-stop-shop for information and tools necessary to conduct program evaluations and advocate for quality teaching and learning. At the same time, the site's interactive features allow participants to contribute their own ideas and share their experiences in improving quality. The site's content is a strong complement to existing online resources from organizations such as the Chicago Arts Partnerships in Education that are helping to elevate the national discussion on quality in education.
"Research has established that quality is crucial to ensuring that children receive the broad range of benefits that arts education can provide – from learning how to learn, to critical thinking, to exposure to other points of view and to stimulating the power of the imagination," said Lucas Held, Director of Communications at The Wallace Foundation. "An increasing number of schools and community-based organizations have asked for Big Thought's advice on how to apply its observation-based quality improvement process. This website now makes those resources publicly available, and allows visitors to benefit from the knowledge that Big Thought has gained over a quarter century of building partnerships to improve arts education for children in Dallas."
The website was developed by The Wallace Foundation and Big Thought with support from research partner WolfBrown, as well as Forum One and Collaborative Communications.
The Wallace Foundation
The Wallace Foundation is an independent, national foundation dedicated to supporting and sharing effective ideas and practices that expand learning and enrichment opportunities for children. The Foundation maintains an online library of lessons at www.wallacefoundation.org about what it has learned, including knowledge from its current efforts aimed at: strengthening educational leadership to improve student achievement; helping disadvantaged students gain more time for learning through summer learning and an extended school day and year; enhancing out-of-school time opportunities; and building appreciation and demand for the arts.
Big Thought
Founded in 1987, Dallas-based Big Thought is one of the nation's leading nonprofits devoted to closing the opportunity gap in education through creative learning. Driven by its mission to make imagination a part of everyday learning, Big Thought has evolved beyond the arts to develop groundbreaking programs that address academic achievement, problem-solving, and life-skills, providing children with pathways to success both in and out of school. Through its innovative partnerships, Big Thought now serves more than 300,000 Dallas children, families, and teachers each year, in and out of the classroom. Big Thought delivers more than one million hours of programming and individual creative instruction annually. Learn more at www.bigthought.org.
###