Principal Pipeline Sustainability Guide
This guide explains what it takes to sustain an effective principal pipeline and provides tools to help school district teams keep the pipeline going.
May 2023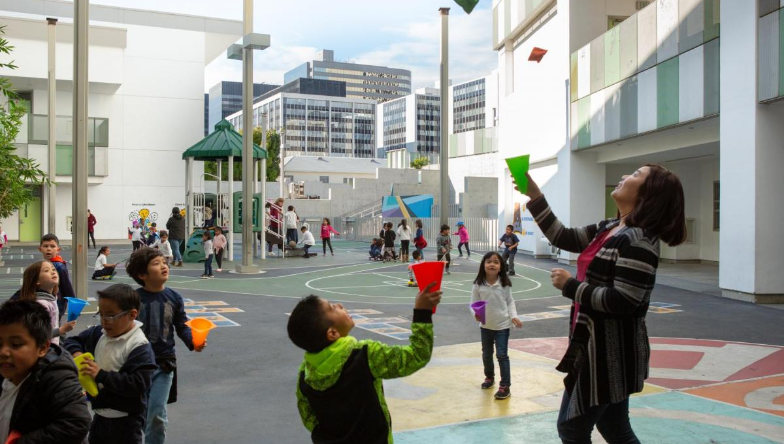 Introduction
If your school district is working to strengthen the way it manages leadership talent in its principal pipeline, you are working for long-term benefits to students, teachers, and schools. Sustainability is the theme of this guide: how to ensure that what starts as an initiative to build an effective principal pipeline becomes a system with the staying power to function well and produce benefits for years to come. Determining how to sustain the successes of a major initiative is always important work, but it takes on special urgency now, at the time of publication of this guide in early 2023. That's because districts can tap into COVID relief funding (from the American Rescue Plan Elementary and Secondary School Emergency Relief, or ARP ESSER) to lay the groundwork for sustaining pipeline work, but they need to move quickly because the funding ends in 2025-26.
This guide is the latest addition to a suite of tools Policy Studies Associates has been developing to help districts engage in pipeline development work. These publications stem from the Principal Pipeline Initiative, an effort, funded by The Wallace Foundation from 2011 to about 2016, in which six school districts demonstrated the feasibility and effectiveness of principal pipelines that comprise seven features, known as domains. This guide complements the Principal Pipeline Self-Study Guide for Districts, which maps these domains in detail and guides districts in assessing their current practices and planning how to advance and refine their pipelines. It also complements Strong Pipelines, Strong Principals, a guide that identifies options for tapping federal funds to support specific actions that strengthen a pipeline. And it offers a longer-term perspective for district teams that are taking steps to support assistant principals' progress to principal positions. Assistant Principal Advancement to the Principalship: A Guide for School Districts provides detailed guidance for such steps.
This guide to pipeline sustainability is based on research and practitioners' ideas from several sources, including a study of the sustainability of the pipelines implemented by the original six pipeline districts,1 the sustainability plans the districts submitted to Wallace during the grant period, a guidebook on implementing and sustaining institutional change,2 and the policy expertise of the consulting firm EducationCounsel on using federal sources for program funding. In addition, the guide draws on examples from the Wallace-funded ESSA Leadership Learning Community (ELLC),3 a six-year, 11-state initiative that yielded valuable lessons about ways in which cross-district partnerships and districts' engagement with communities and state agencies can support and sustain initiatives focused on strengthening school leadership.
This guide is designed to help district decision makers sustain the work they have started to connect and strengthen seven interrelated and mutually reinforcing domains of district activity to cultivate a large corps of effective school leaders. As shown in Exhibit 1, these seven domains of what has come to be called "a comprehensive, aligned pipeline" include:
Leader standards, which include the competencies that define the day-to-day work of principals and which pipeline districts develop and adopt to guide and inform each pipeline domain.
High-quality preservice principal preparation, which is provided externally by university and nonprofit partners and in-house by districts. Preservice preparation programs are aligned with the district's leader standards; are responsive to district input and needs; are evidence-based; and include authentic, school-based leadership training.
Selective hiring and placement of principals whereby districts use standards-based, multi-stage hiring and placement practices to match principal candidates' competencies with school needs.
On-the-job evaluation and support for principals, especially novice principals, that emphasizes standards-based evaluation; intensive, individualized, and ongoing feedback and support; and mentoring or coaching in induction.
Principal supervisors who can support principal growth and instructional leadership if provided appropriate training and caseloads.
Leader Tracking Systems, which districts systematically build using longitudinal data on aspiring and sitting principals to improve individual opportunities and pipeline management.
Systems and sustainability, which includes developing a strategic vision for the pipeline; identifying key internal stakeholders engaged in pipeline planning; securing ongoing funding from diverse sources; and appointing a project director to lead the pipeline initiative.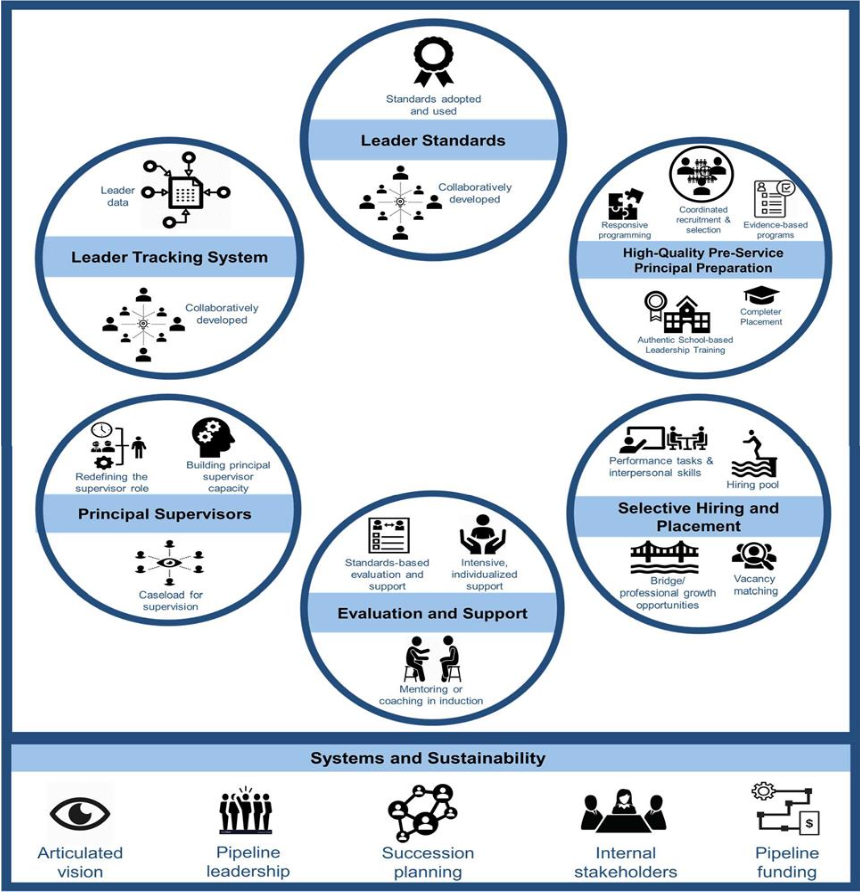 A central finding of the evaluation of the Principal Pipeline Initiative was that the six participating districts were able to sustain their pipelines well after their grants from The Wallace Foundation ended.5 The districts worked toward sustainability from the start, and although they continued to refine each pipeline domain to reflect their changing needs and circumstances, their pipelines remained intact. This guide provides examples of the actions those districts took to improve their pipelines' sustainability, starting at the outset of their work on pipelines and continuing over the years.
Sustaining a pipeline requires attending to the following six elements—as defined by the authors based on research and practitioners' ideas—and this guide offers a framework for addressing them through self- study and planning.
Financial planning
Partnerships
Stakeholder involvement
District policies and procedures
Continuous improvement and evaluation
Communications
The guide describes each element and suggests discussion questions and local evidence for district teams to consider in assessing how well their district is currently addressing the element (see "Discussion Questions" and "Local Evidence to Consider/Look At" sections in every element). We begin the guide with a discussion of financial planning because not only is such planning critical to sustaining any initiative, but it is also an especially time-sensitive matter as ARP ESSER funding comes to an end.
A template at the end of the guide (Appendix A) allows districts to identify sustainability elements they want to strengthen and to make a plan for the sustainability work they want to prioritize. The guide also includes a financial planning template (Appendix B)—also available online in a user-friendly electronic Excel file—that districts can use to account for the "soft" and "hard" funding sources available to support both the one-time and ongoing costs of the pipeline.6 That template also guides districts in assessing their pipeline's vulnerability to financial trouble based on the district's financial plan.
This guide was reviewed for clarity and usability by two experts in school leadership who are both veteran facilitators of the pipeline self-study guide (and one of whom is also the former project director of one of the six original pipeline districts). In addition, the guide was reviewed by administrators in three districts (two urban and one rural). Two of the districts are actively working on their principal pipelines, and one wants to get serious about strengthening its pool of qualified school leaders. We revised the guide based on feedback from all of these expert reviewers.
How to use this guide
This guide supports districts in taking the following steps to determine how well they are positioned to sustain their principal pipelines and to plan for improvement:
Engage the principal pipeline implementation team in sustainability planning. Addressing each of the sustainability elements touches on the work of many and requires a collaborative approach. Like implementing a pipeline, sustaining one requires team members to collect and review evidence to identify sustainability elements they want to implement or strengthen and also requires them to engage internal stakeholders and external partners in supporting the sustainability plan.
Assess which sustainability elements the district still needs to address. The principal pipeline team should review the Pipeline Sustainability Self-Assessment/Planning Template in Appendix A and discuss the evidence regarding which steps the district has taken to sustain its pipeline. Each section of this guide suggests types of evidence related to a sustainability element under the heading, "Local Evidence to Consider/Look At." For financial planning, the template in Appendix B will help in assessing the soft and hard funding sources available to support both the one-time and ongoing costs of the pipeline.
Look across the results of the Self-Assessment/Planning Template and make a plan for sustainability elements to implement or strengthen. Recognizing that attempting to implement or strengthen every element at once is unrealistic, the team should decide which elements to prioritize now and which to defer until later. Just as pipeline improvement happens over multiple years, so does strengthening the elements of pipeline sustainability.
Topics: