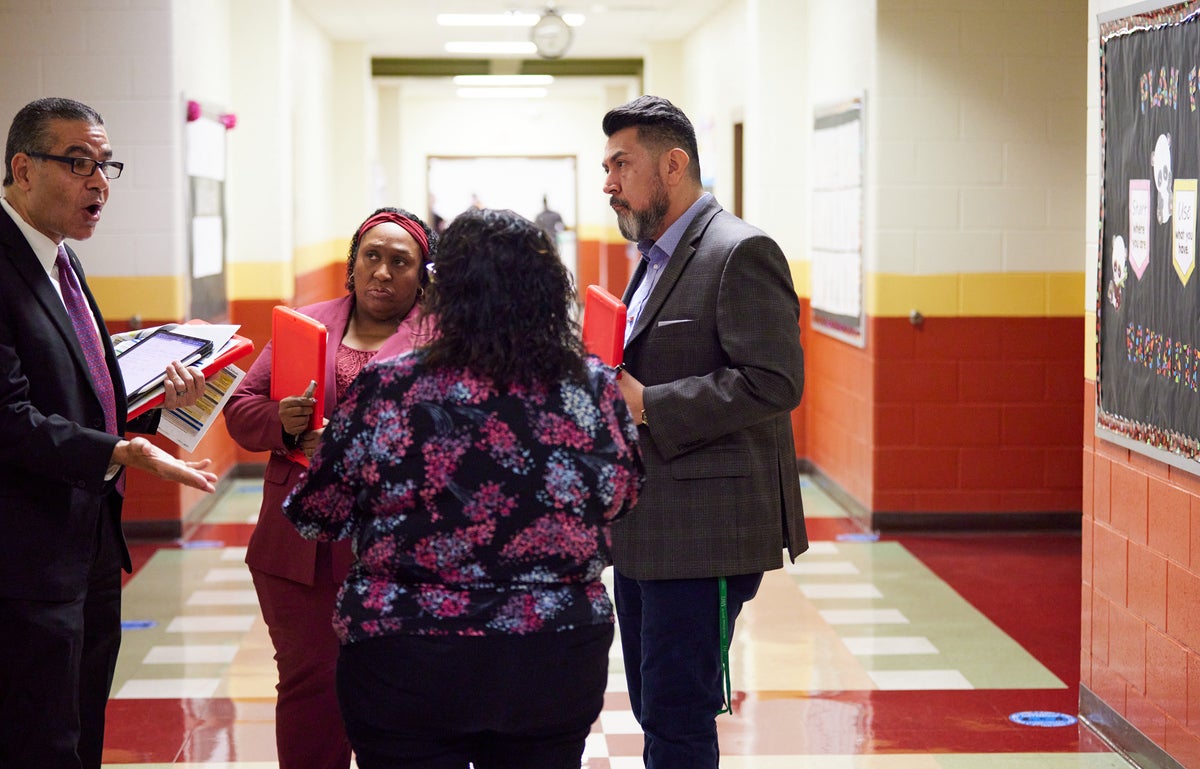 About the Wallace Foundation
The Wallace Foundation, an independent, national philanthropy based in New York City, traces its origins back more than half a century to DeWitt and Lila Acheson Wallace, founders of The Reader's Digest Association. The Foundation's work is grounded in their mission to foster equity and improvements in learning and enrichment for young people, and in the arts for everyone. Their core values guide how they work together and with their partners. The Foundation aspires to create an engaging and inclusive work environment based on mutual trust and respect, and driven by equity, diversity, transparency, collaboration, and continuous learning.
Philanthropic Approach
The foundation has an unusual strategic approach: In each of our focus areas –Arts, Education Leadership, and Youth Development –we seek to identify, and help answer, one or more significant questions whose answers are not known but which, if known, could help propel progress more broadly. As responsible stewards of our resources, we seek to ensure that our initiatives contribute to Wallace's dual goals:(a) benefits for our partners and those they serve in the form of increased capacity, and (b) benefits for the broader field through credible, relevant knowledge.
This "Wallace Approach" is reflected in the way the foundation centers learning in developing its strategies and designing its initiatives. We begin by attempting to understand the context of the fields in which we work in order to identify an important unanswered question to address. We then simultaneously fund programmatic work in the field by organizations (including technical assistance and peer learning communities) and research that studies the process and results of their efforts to answer the question. The aim is to generate improvements and insights that can benefit both the people served by the grant recipients and the field as a whole. The public reports emanating from this work are the basis for our strategy of catalyzing broad impact by serving as a knowledge hub for credible, useful lessons to be disseminated to key audiences of practitioners, policymakers and influencers.
Interdisciplinary Team Structure
The Wallace Approach is carried out in an interdisciplinary team-based structure with three disciplines: program, communications, and research. We seek employees who are highly skilled in their professions, able to work collaboratively across disciplines to capture the synergy of diverse experience and ways of thinking, think analytically, and communicate clearly the rationale for recommendations. We value the flexibility to adapt to change, a desire to learn, and the ability to work productively both on one's own and with colleagues inside and outside the foundation.
For more information on The Wallace Foundation and to see examples of our work, please visit http://www.wallacefoundation.org.
The Opportunity
There are two aspects to Wallace's work in the arts:
Investing in the relevance and resilience of arts organizations and understanding their role in community, and
Engaging more young people in high-quality arts learning during the school day and beyond.
Collaborating with the Vice President, Arts and members of the Arts Unit and Interdisciplinary Team, the Program Officer, Arts is a key contributor to the success of the Foundation's initiatives, particularly in support of the current Wallace arts initiative. They play an integral role in supporting the initiative's goals: strengthening the capacity of arts organizations of color to benefit their communities and documenting and sharing insights with practitioners, policymakers, funders, and industry leaders to support equitable and sustainable improvements across the arts ecosystem.
The Program Officer will bring substantive field knowledge and experience to the interdisciplinary team's work on strategy design, ongoing refinement, course corrections, and implementation; managing the work of the grantees and partners to advance the overall goals of the initiative; and supporting sharing of knowledge.
Core duties of the Program Officer include:
Grants/Contracts/Partnership Management
Acting as stewards of our resources, ensure that the funded work of our initiatives reflects Wallace's "dual goals:" benefits for our partners and those they serve, and benefits for the broader field through knowledge creation and dissemination.
Manage the work with grantees to advance the overall goals of the initiative: local impact and broader field benefits.
Fulfill stewardship responsibilities: (i) ensure grantee budgets reflect the scope and deliverables, monitor spending, and review financial reports to inform future funding; and (ii) maintain an up- to-date grantee record, including report reviews and feedback, conversations with grantees, and budget discussions to ensure the integrity of the foundation's grants management database.
Use feedback skills effectively to build a relationship of trust, candor and transparency with grantees so that discussion of challenges and problems leads to shared problem-solving and resolution; and progress and success is recognized and built on.
Prepare timely analysis of funded work to inform the discussion of strategy, initiative goals and implementation in the team and unit. Analysis includes strengths and challenges in fulfilling scope of work, options with pros/cons, and a recommendation.
Fulfill lead role on "strands" of work within an initiative (e.g., Professional Learning Community, conference planning, and field data collection) to meet agreed-upon goals.
Participation in Teams
Actively contribute to building high-performing teams to improve how we work together, build trust, develop strategy, design initiatives, manage implementation, and make course corrections to advance Wallace's mission.
Fulfills individual responsibilities and commitments as assigned within the team and/or unit.
Works collaboratively to advance the work by contributing own perspective and listening to understand the perspectives of all members of the team.
Demonstrates an approach to shared problem-solving that is grounded in advancing the work, assumes good intentions, demonstrates respect, and welcomes diversity of perspectives.
When presenting analyses and recommendations for grants/projects/strands of work to the team allows for all voices to be heard, consideration of options, and discussion of pros/cons to lead to a consensus.
Knowledge-sharing to Catalyze Broad Impact
Contribute to sharing what we learn to support the foundation's mission to catalyze broad impact in our fields of interest.
Participate in staff review of draft reports and knowledge products to ensure final copy reflects our commitment to only "say more as we know more," and is respectful of the grantees whose work is presented in the report.
Drawing on message maps and other resources, share what we are learning at conference presentations, in the local communities of our grantees, and in other venues.
Cultivate relationships and participate in external networks, such as funder collaborations, "grantmaker" organizations, and professional associations.
Candidate Profile
The ideal candidate will have the following professional and personal qualities, skills, and characteristics:
Appreciation for the Mission
Deeply committed to the Wallace approach, the Program Officer honors and values the important role that philanthropies play in forging progress in a democratic society. A champion of the mission, they steward the Foundation's values by inspiring and motivating others both within the Foundation's ecosystem and the community arts world. They lead with humility, strive for excellence, and recognize that success is a long-term effort that requires the Program Officer to be a co-creator in the success of the Foundation's initiatives, grantees, and the communities that they serve.
Passion and Knowledge about Arts and Arts Education
The Program Officer embraces the belief that arts and creativity are fundamental and necessary for the health of the human spirit. They share a sense of urgency to amplify the arts' critical role in improving the lives of young people and contributing to strong, resilient communities. They celebrate the artistic and creative process. Experienced in working with the arts, culture, and/or creative sectors, they share their deep knowledge of best practices and trends broadly and enthusiastically.
Intellectual Curiosity, Analytical Capability, and Mindful Thinking
A creative thinker and problem-solver, the Program Officer thinks strategically, takes initiative, and executes strategies to define clear program objectives, evaluate progress, and steward projects through a complete lifecycle. They bring a fresh perspective and solutions-oriented mindset, possessing equal parts quantitative and qualitative analytical skills to identify opportunities, build organizational capacity and efficacy, design and evaluate initiatives, and evaluate proposals and outcomes. They are skilled collaborators, comfortable with ambiguity, and deep listeners. They thrive in an environment that fosters a fluid exchange of ideas and harness the power of different perspectives to foster the success of their grantees and Foundation initiatives. They are knowledgeable about complex organizational and community conditions, recognize the role of policy and policymakers on the arts and arts education, and navigate nuanced political and community dynamics. A strong project manager, they foster comprehensive approaches to addressing common challenges in the community arts. Throughout their work, they recognize the potential in others, celebrate differences, and share success and accountability equally.
Relationship Building and Collaboration
Skilled at building, cultivating, and sustaining productive relationships with diverse constituencies, they have successfully developed external partnerships to advance the Foundation's strategic priorities and initiatives. They are a proven team player who serves as a trustworthy advisor to grantees, partners, and vendors. They embrace a collegial approach to both sharing ideas and receiving feedback, consider new perspectives, encourage open dialogue, listen with patience and empathy, and inspire diverse constituencies to collaboratively work towards common goals.
Leadership Through Influence
As a public-facing representative of the Foundation, the Program Officer recognizes that their scope of influence extends beyond their portfolio of grantees—it inspires the broader community arts landscape. A champion of the Foundation, its grantees, and the arts, the Program Officer is a skilled public speaker who builds supportive, respectful networks by presenting information succinctly, objectively, and credibly in a manner that is inclusive of Wallace's diverse constituencies. They recognize the powerful impact of personal relationships and can appeal to a broad audience of grantees, partners, vendors, and community members through a wide range of communication channels.
Diversity, Equity and Inclusion (DEI) Perspective
An advocate for advancing equity as a driver in the arts sector, the Program Officer will play a critical role in supporting Wallace's efforts to strengthen DEI in its own work and culture. The next Program Officer will be an active contributor to the Foundation's efforts to collectively engage in the difficult, necessary conversations around equity and inclusion and will partner with the Foundation in taking actionable steps towards investing in programming and strategies that promote diversity and inclusion within the constellation of communities that Wallace serves. They have the courage to look inward and recognize that an awareness of conscious and hidden biases—both individual and collective—is a powerful catalyst for reflection, personal and professional growth, and action. They bring an open mindset, a strong degree of socio-emotional intelligence, and a commitment to inclusive and equitable practices in their work with their team(s), colleagues, grantees, and partners.
In addition, strong candidates will offer:
Exceptional project management skills, with the ability to effectively manage multiple projects and competing priorities.
Multiyear experience at the program management level in a community-based arts organization, particularly in the visual or performing arts, strongly preferred.
The Wallace Foundation is an Equal Opportunity Employer, committed to maintaining a diverse workplace where differing perspectives are a source of strength.
Compensation & Benefits
The salary for this position is $150,673. The foundation's regular in-person schedule is Tuesday-Thursday with the flexibility to work remotely and Mondays and Friday.
A snapshot of our generous benefits package includes a choice of health insurance plans and a healthcare reimbursement account, 403(b) retirement plan with 15% employer contribution upon eligibility, and a community service matching gifts program recognizing employee volunteer hours with a financial contribution to a qualifying non-profit organization.
The salary for this position is $150,673. The foundation's regular in-person schedule is Tuesday-Thursday with the flexibility to work remotely and Mondays and Friday.
Contact
Koya Partners, the executive search firm that specializes in mission-driven search, has been exclusively retained for this engagement. Malissa Brennan and Anne McCarthy of Koya Partners have been exclusively retained for this search. Please submit a compelling cover letter and resume to by completing a Talent Profile.
Koya Partners is committed to providing reasonable accommodation to individuals living with disabilities. If you are a qualified individual living with a disability and need assistance expressing interest online, please email NonprofitSearchOps@divsearch.com. If you are selected for an interview, you will receive additional information regarding how to request an accommodation for the interview process.
About Koya Partners
Koya Partners, a part of Diversified Search Group, is a leading executive search and strategic advising firm dedicated to connecting exceptionally talented people with mission-driven clients. Our founding philosophy—The Right Person in the Right Place Can Change the World—guides our work as we partner with nonprofits & NGOs, institutions of higher education, responsible businesses, and social enterprises in local communities and around the world.
For more information about Koya Partners, visit https://diversifiedsearchgroup.com/koya-partners/.